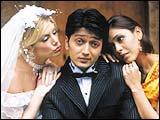 Speaking to the media a few days before the release of his latest film Out of Control, producer Vashu Bhagnani appeared confident that his recent string of box-office failures -- Tera Jadoo Chal Gaya, Deewanapan, Rehnaa Hai Terre Dil Mein, Om Jai Jagadish and Jeena Sirf Merre Liye -- would end soon.
Blaming the audience's preference for television, he said the phase had passed and people would return to the theatres now.
Having watched the first day, first show of Out of Control, I think I should have stayed home and watched some television soap myself.
The film reeks of that 'been there, done that' feeling. And having seen similar films (Saajan Chale Sasural, Gharwali Baharwali, etc) with a better cast and production team, one fails to understand why co-directors Ramanjit Juneja and Apurva Asrani had to make the same film once again.
Jasbinder Singh Bedi aka Jimmy (Ritesh Deshmukh) is pursuing his American dream in New York by delivering newspapers, driving cabs, washing vehicles, and working at gasoline stations. But his immigration status is on a sticky wicket for the lack of a sponsor.
Jimmy's roommate, cabdriver Mango Singh (Satish Kaushik), also fails to help him.
Enter aspiring singer Sally (Brande Roderick) who croons at New York's bars in skimpy outfits. She takes a liking for Jimmy, who advises her to expose her voice more than her body, and tidbit notes on how 'Indians do not do it before marriage'. Ahem, choke!
When she learns of his immigration problems, she proposes marriage. Soon, he becomes her legal husband and a US resident.
Jimmy then receives a call saying his father Jatta Singh Bedi (Amrish Puri) has had a heart attack and has to rush back to Punjab. Here, he finds the call was a ploy and his marriage has been arranged with Richa (Hrishitaa Bhatt).
Afraid to tell his family of his marital status, he finds it more convenient to silently take the saath phere and return to America promising to arrange for a visa for his wife soon.
When he fails to call, write or return for months on end, his father lands in New York, daughter-in-law Richa in tow.
Here, he is helped by Flower (Satish Shah in a drag queen avatar), the son of a childhood friend.
How Jimmy does a balancing act between his two wives for a couple of reels before being caught out, and how the bigamous relationship is resolved, forms the rest of the film.
Ritesh Deshmukh puts in some hard work, but without the looks of a proper Hindi film star (Bhagnani's words, not mine), or the comic genius of a Govinda, he fails to pull the film off all by himself. He fails to get the audience to laugh at his troubled situations or sympathise with him. A Main Shah Rukh Khan Banna Chahta Hoon attitude adds to the problems.
Satish Kaushik is impressive, and is the only one who manages to evoke a few stray smiles. Amrish Puri screams his dialogues throughout the film -- totally out of control. Hrishitaa Bhatt, Navin Nischol (as Hrishitaa's father) and Satish Shah are average.
Director Asrani had claimed that each of the characters had his or her own unique story. Hmm... unique stories? Where were they?
Brande Roderick looks every bit a Baywatch bombshell, and performs surprisingly well too. She emotes and dances comfortably, and deserves some more roles in Indian films.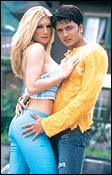 Apurva Asrani tries to do a David Dhawan, but fails. He should stick to editing, or maybe try his hand at serious cinema -- the Ram Gopal Varma kind.
The clothes, music and locales are good, but with a tried and much-repeated storyline, who cares for such works anyway?
Now, one small query to the makers. The 'humorous' story of a man stuck in two marriages has been attempted numerous times before. Will someone ever have the guts to try a female version -- a woman getting married twice and juggling between her husbands -- even if in comical fashion?
Can you ever be that hatke?
Credits
Cast: Ritesh Deshmukh, Brande Roderick, Hrishitaa Bhatt, Satish Kaushik, Amrish Puri, Satish Shah, Navin Nischol, Himani Shivpuri
Directors: Ramanjit Juneja and Apurva Asrani
Producer: Vashu Bhagnani
Music: Anand Raaj Anand