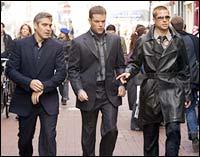 Steven Soderbergh's 2001 remake of Ocean's Eleven was a huge hit worldwide grossing about $450 million. If the audience reaction at a New York preview is any indication, there's a new hit on the way.
But the sequel, which has as many improbable plot developments as its predecessor, may not turn out to be as big a hit as the first. It possesses just about half the thrills, adventures and surprises.
The ensemble cast playing burglars includes actors from the previous hit -- George Clooney, Brad Pitt,  Matt Damon and Don Cheadle -- returning for a number of heists, but they are now on the run right from the start.

Casino king Terry Benedict (Andy Garcia) has tracked down all 11 members of Danny Ocean's (Clooney) team that had robbed and humiliated him in Las Vegas. Though the insurance covered his loss, he wants his $160 million back, with interest, and within a certain date.

The film shows the 11 living their private lives across America, oblivious to the tiniest suspicion that Benedict could find them.

Reuben Tishkoff (Elliot Gould), who got his revenge on Benedict for throwing him out of the Las Vegas real estate business by financing Ocean's heist plan, is living very well, having invested his share of the loot in the stock market.

Danny Ocean is remarried to his ex-wife Tess who used to be Benedict's girlfriend. They seem to be having a quieter life in a Connecticut town till the Vegas big gun and his henchmen come calling.

Ocean and his crew work on a series of robberies in Europe to repay Benedict.

Their plans become far more complicated when Ocean is challenged by a French thief known as The Night Fox (Vincent Cassel, a new addition to the cast). Born into a world of wealth and privilege, Fox is not interested in money but in the rush of pulling off a seemingly impossible heist.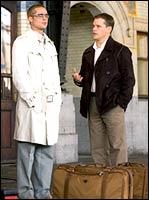 The second half of the film thus turns out to be an adventure about the greatest thief in America being challenged by the greatest thief in Europe.

Another new character we see is Isabel (Catherine Zeta-Jones), a detective chasing Ocean and his crew. She has a personal connection to the gang that is revealed quite early on. Her hidden past -- her father used to be a big international criminal -- will play a significant role later.

While the characters of Isabel and The Night Fox bring some novelty to the film, some of the more fascinating characters from Ocean's Eleven have hardly any work here.
Bernie Mac is underused, Elliott Gould hardly has any memorable lines. Ditto for Carl Reiner. But Cherry Jones (who appeared with Roberts in Soderbergh's Erin Brokovich) is delightful in a few scenes right at the end.

The gritty heist scenes remind of similar ones in Eleven. But the new film, shot in some of Europe's most colourful locations, is visually far more attractive.
At times the scenery is distracting, but the movie is good for a few hours of fun. Don't ask too many questions about plot twists or logic.
And remember, it is also easily forgettable.