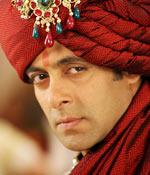 He's been playing the comical, stylish cad for a while now. Salman Khan breaks out of his popular skin to essay the warrior Veer in Eros International's grand opus of the same name. Credited for the story as well, Veer belongs to the Conan the Barbarian/Lagaan/Jodhaa Akbar/Asoka school of opulence but with the inevitable (director) Anil Sharma touches. He's the man behind Gadar: Ek Prem Katha, Tehelka and Apne. You get the drift?
Co-starring Mithun Chakraborty, Jackie Shroff, Sohail Khan and newcomer Zarine Khan, best known for her passing resemblance to Katrina Kaif, Veer is set for a late January 2010 release.
Salman favourites -- the composer duo of Sajid-Wajid (they earlier score music for the actor's Wanted, Main Aurr Mrs Khanna, Hello Brother and Heroes) -- is at the helm of this period, costume drama's soundtrack, which appears to be inspired by A R Rahman's approach and instinct. Whether it's intentional, I do not know. But it definitely helps.
Here are my two cents on Veer's music:
Taali
It starts out like a sinister background theme of a mindless action flick but goes on to develop into a full blown Bollywood-style gypsy number. And so Sukhwinder Singh and Sonu Nigam engage in a six-minute long, high-pitched, electric discussion over Veer's ladylove with generous scoops of zingy Punjabi-flavored lyrics from Gulzar and Sajid-Wajid characteristic over-the-top cacophony. In all fairness, Taali may work well on a visual scale but its merits as purely music leave a lot to desire.
Surili Ankhiyonwale
It is always a pleasure to stumble upon a cheerful, fuss-free creation. Surili Ankhiyonwale is just that. A sweet, simple, uncomplicated tune, which is mostly soothing on the ears and bears enough repeat value to qualify as the running theme of an entire film and its soundtrack. Both Rahat Fateh Ali Khan and Suzanne D'Mello are in their respective comfort zones as they take turns to lend their brand of elegance and touch to this lovey-dovey number.
Salaam Aaya
If Salaam Aaya transports you to Lagaan's O re chori, don't be alarmed. The A R Rahman influence looms large over this otherwise silvery and romantic celebration of all matters that concern the heart. The syrupy elements are kept in check while Gulzar's lyrics keep it reliably imaginative. What makes Salaam truly special is the marriage of contrasts between Roop Kumar Rathod's even-tempered, throaty voice to Shreya Ghosh's delicate 'Disney Princess' chords. Good enough to warrant its presence twice in the album? You bet.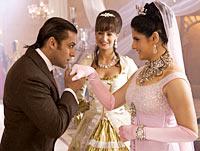 Meherbaniyan
An overwhelming, congested arrangement makes it impossible to concentrate on the breezy quality to Sonu Nigam's playback capabilities, the merry rock 'n' roll tempo or Gulzar's blithe flirtations of this purported foot-tapper. If not for the excess, Meherbaniyan would have made one charming impression.
Kanha (Thumri)
Agonized, vulnerable, besotted and estranged, she sobs and sighs. Rekha Bhardwaj, empowered by the vocal forces of Shabab Sabri, Toshi and Sharib, blends effortlessly into the rustic classicism of the compelling thumri, Kanha to convey the distressed leading lady's jitters and desperation. Quite easily one of the best offerings from Sajid-Wajid stable.
Spirit of Veer
Sajid-Wajid's instrumental theme of Veer is a gingery cocktail of tons and tons of Celtic beats, the kind of stuff hobbits dance to. A bit of an oddball, considering Veer is unabashedly a Bollywood score. On its own, however, it's not bad at all.
Verdict: Unlike the macho projection of Veer, thanks to Salman Khan's beefed up physique with a shining armor to match, the soundtrack of Veer is predominantly mellifluous and a laudable upgrade from Sajid-Wajid's previous works.
Rediff Rating: