Mallika Sherawat and Rahul Bose reunite with Sanjay Chhel's decidedly intriguing Maan Gaye Mughal E Azam, and Anu Malik is the man in charge of the soundtrack.
As albums go, Malik has crafted one which is mostly harmless. There's one great track to begin with, one ghazal that simply cannot be made sense of -- perhaps Chhel has a specific situation in mind -- and the director's own rough-and-tumble lyrics to add some quirk to it all. Essentially, however, it's pretty much filler -- stuff you won't mind along with stuff you wish was worked on a little harder.
It opens with a real tough track to cover. If the very idea of Mallika Sherawat taking on Madhubala moves shocked you, then imagine Ishq Bector, Anushka Manchanda, Mahalakshmi Iyer and Shaan taking on Pyaar Kiya Toh Darna Kya. Ishq's punchy opening rap does a Rahul Gandhi, shortening Anarkali to simply Kali. You're smiling before you know it, and you soon realise why. Sanjay Chhel is writing zany lyrics to spread all around the chorus from the original, and he's always done off-the-wall with super panache -- plus, these words are almost always a provocative tease. Mahalakshmi Iyer's vocals are characteristically powerful, and complemented unusually yet very nicely by this bunch of discordant voices. Seriously, this is one fun track -- by dint of its sheer, infectious irreverence.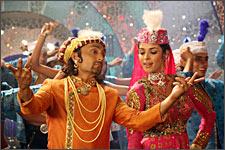 Marmari Baahein brings back Iyer, this time alongside a whoa-whoa-whoaing Kunal Ganjawala, singing like he's in a sound-like-Shaan contest and not doing winningly enough. Still, it's an interesting change of pace, and Iyer's voice is marvellous in the interludes when she doesn't try to go too high. The composition itself, however, is very blah -- this is Ballad 101, as basic as it gets.
Ek Toh Sharab Kum, sung by Pankaj Udhas -- that's right, the melancholy ghazal man is a vocalist on an Anu Malik soundtrack -- is inexplicable. The song isn't bad in itself, to be fair, but the composition sounds so very basic that you could be biting into butter chicken at a dimly lit restaurant and listening to some random guys play this in the background. Very, very unimpressive.
Sunidhi Chauhan takes charge as she saucily opens up Ishqaiyaan, an interesting track revelling in its own unpredictability. The beat is neat, the groove does move, and while this is the kind of song Govinda and Raveena Tandon could have rocked with pelvic thrusts and pouts in the 90s, it's definitely a decent listen. Sure, it may be an outtake from Malik's awesome Judwaa soundtrack, but in today's musical context, it sounds surprisingly refreshing.
Then, the inevitable remixes. The Marmari Baahein (Remix) is tackled by the composer himself, Anu Malik going all tender and emotive -- as much as that voice lets him be, at least. You know what to expect now, right? It's a Malik ballad, framed by vague banal English rap about 'sweet talks.' It's been a while since we've heard that stuff too... but then there's good reason for that. Argh, my ears hurt.
The Pankaj Udhas track is just as avoidable with an extra addition of beats, of course. And the Ishqaiyaan Remix isn't as much guilty-pleasure fun as the original, unless you're a synthesiser-fetishist, that is.
Overall, the album accomplishes the tall order of making a really fun version of a classic song. It's the originals that aren't memorable at all, but outside of the peculiar ghazal decision, they have enough of a beat for Ms Sherawat to shake that body to and make instantly, visually memorable. Skip the album, but do get a hold of the Pyaar Kiya Toh Darna Kya track for sure.
Rediff Rating: