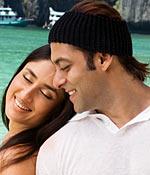 We have seen many films on marital problems. Main Aurr Mrs Khanna [ Images ], starring Salman Khan [ Images ], Kareena Kapoor [ Images ] and Sohail Khan [ Images ], is no different. 
In fact, we wonder what made Salman say yes to Prem Soni's directorial debut when he had already done a film on a similar topic in Shaadi Karke Phas Gaya Yaar. Surely it's not to revive his brother Sohail's (he is the producer of MAMK) flagging career?
Well, whatever the reason, don't hold your breath: Main Aurr Mrs Khanna is a failed attempt.
The story goes like this: Raina (Kareena), an orphan, falls in love with Samir Khanna (Salman). They marry. Soon, Samir loses his job in Melbourne [ Images ] and cracks start appearing in their marriage. Raina is very understanding, deals with everything calmly and never fights. Samir becomes very reserved and doesn't talk to her much.
With the help of his friend (played by Dino Morea [ Images ]), Samir goes to Singapore and sends Raina to Delhi [ Images ]. He does not inform Raina till they reach the airport that they are not going together. She feels betrayed as he leaves for Singapore. She then decides to stay back in Melbourne.
With the help of her friends, she manages to get a job at Bappi Lahiri's [ Images ] shop at the Melbourne Airport as well as a big house for herself. Eventually, she meets Akash (Sohail) who falls in love with her.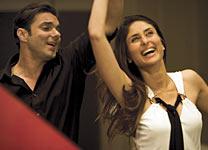 Meanwhile, her work permit expires, leaving her in a quandary as she wants to stay in city in case Samir comes looking for her. To buy some time, she makes Akash think she is going to marry him and goes to the marriage registration office to apply for a license. 
Things get complicated when Samir returns. Will Samir accept that his wife is not having an affair and that she was using Akash to stay in the country?
Sounds promising, doesn't it? But let me tell you, Main Aurr Mrs Khanna is anything but. It lacks all the punch that a drama should have. There is no rhythm or flow in this jerky movie. Also, how does Kareena manage a mansion on a salesperson's salary?
Performance-wise, though Kareena is okay, she is not convincing as a dedicated wife waiting for her husband to return. There is no sense of urgency in her performance, except for one sequence where she gets drunk and keeps saying her husband's name over and over again.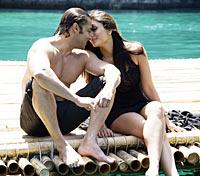 As for Salman, his role is more like an extended special appearance. That leaves Sohail, which is not saying much.  
Bappi Lahiri is wasted. Come on, at least make the man sing! Yash Tonk overacts while  Mahek Chahal [ Images ] is just okay. Nauheed Cyrusi's [ Images ] role is as skimpy as her outfit. Dino too doesn't have a lot to do. And yes, Preity Zinta's [ Images ] item number isn't happening, which is ironic considering it's called Happening.
This Diwali [ Images ] just got a little duller.
Rediff Rating:

For Main Aur Mrs Khanna [ Images ] ringtones, wallpapers and videos SMS MAMK to 57333