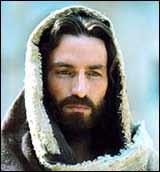 Mel Gibson has set a record: no Biblical film in history has ever had the kind of brutality as his The Passion Of The Christ.
A soul-less film, though well acted by James Caviezel and stunningly photographed by Caleb Deschanel, it does not offer illuminating thoughts on Jesus Christ.
The debate whether the film will perpetuate prejudice and anger against Jews for their perceived role in the killing of Christ will continue. Meanwhile, the evangelical Christians who are rushing to see the film with their children may want to do something fast: look for therapists to handle their trauma and nightmares after seeing this exercise in gore. Even adults who have seen the most violent films ever could find it difficult to keep their eyes open many times. 
For a nation still consumed by the controversy over Janet Jackson showing her nipple over television, one could say that transgression was indeed pardonable compared to the debauchery of violence in this film.
If there is a film festival for fetishistic films, Gibson's movie will be hailed as a classic for its depiction of the beating and torture Christ had to endure. The flogging scene alone takes over ten minutes. You see the skin tearing and tiny pieces of flesh coming off his body slowly. The crown of thorns is then -- slowly -- hammered onto his head, and we get to see more blood drip down the face.
Wait, don't close your eyes. Wait for the spikes to be hammered into his palms.
Given the wide controversy, the movie could open big. And given its medium-range budget ($25 million), it may not lose any money at all. It will of course be interesting to see what kind of tortuous fate awaits it in the long run.  
Some of the finest films of our times, including The Godfather saga have had plenty of violence. But in Gibson's film, which portrays the last 12 hours before Christ was crucified, graphic scenes of torture overwhelm the viewer so much that we get to see little of Christ's soul.
If I were to see a more insightful about Christ, I will revisit The Gospel According to St Matthew, the 1996 film directed by Pier Paolo Passolini, the leftist Italian director who admired Christ's egalitarian outlook.  
   
Pontius Pilate (Hristo Naumov Shopov), the Roman administrator, asks the crowds assembled to see Christ being tortured, "Isn't this enough?"
But Jewish elders, convinced that Christ is a heretic, call for his crucifixion. The Romans are only happy to carry it out. There are many disagreeing accounts of Pilate in the Gospels and religious books. Some show him as a ruthless administrator and some a political pawn. Here, Pilate appears to be a sympatric character, and there is no doubt in Gibson's mind about that.
Nowhere does the film hint that Christ died for humanity. It does not echo the thoughts of many Catholic theologians that the death was in response to universal sins.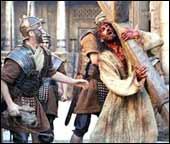 The few kind Jewish characters are the people who like Christ and are beholden to him: Maia Morgenstern, a Jewish actress, plays his mother and Monica Bellucci is well cast as Mary Magdalene. But their parts are limited, and we see them do little beyond shedding a few tears for Christ. That they managed to do it well is some relief.
There are moments the movie sends mystical sensations down the spine like the eerie sequence in the Garden of Olives, where Jesus is being tempted by Satan (Rosalinda Celentano). But soon Gibson is possessed by a sado-masochistic streak and there is very little chance of a redemption.
CREDITS
Cast: James Caviezel, Monica Bellucci, Rosalinda Celentano, Hristo Naumov Shopov, and Maia Morgenstern
Director: Mel Gibson
Writers:  Ben Fitzgerald, Benedict Fitzgerald and Mel Gibson 
Cinematography: Caleb Deschanel 
Running time: 2 hours 10 minutes
Rating: R for sequences of graphic violence
In Latin and Aramaic with English subtitles.
Distributor: New Market Films
ALSO READ:
Mel Gibson hits back at critics
Mel Gibson under attack for Jesus film?
Mel Gibson's Christ film is branded anti-Jewish
Reviews for The Passion Of The Christ