Up front, I should be honest: I dislike most musicals, sneer at ABBA and reserve a particular brand of contempt for Pierce Brosnan, whose deficiencies as James Bond become more glaring with Daniel Craig's every rendition of the character.
I'm by no means inclined to like Mamma Mia!
But with the onstage production -- which hit London's West End in 1999 and has since toured the globe to near universal acclaim, reportedly grossing $2 billion in earnings -- such an unquestionable success, how bad could it be?
After all, it stars Meryl Streep, one of the finest female actors to ever grace cinema halls with her projected presence. And it features subtitled song lyrics, perfect for the sing-along types. It seemingly spells a raucous good time, or so its creators envisaged.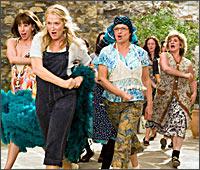 Unfortunately, it's not a good time. It's a train wreck. Mamma Mia! is absolutely, unavoidably terrible.
For starters, the theatre was not jumping. I heard nary a peep from fellow onlookers, who I anticipated would be singing at the top of their teenaged lungs. Movie-goers were not standing in the aisles, swaying back and forth in rhythm, belting out Dancing Queen. Instead, they sat there, looking bored and eating popcorn.
Of course, had the plot been believable and compelling, had the songs truly enthused the audience, had the singing and acting been halfway decent, I would say so.
To be fair, Meryl Streep, pushing 60, delivers a fine performance, almost single-handedly willing this one to respectability. There are times, however, when watching her struggle through some ridiculously cheesy dialogue, that you feel like you're watching a once-proud grandfather struggle to chew his food and put on his pants. It's embarrassing.
Streep is Donna, a former rebellious American rocker (Donna and the Dynamos), who many moons ago, on the small Greek island Kalokairi, spent a promiscuous summer flitting between three young men: Sam (Brosnan), Harry (Colin Firth) and Bill (Stellan Skarsgard).
Flash forward twenty years, she now runs the dilapidated Villa Donna, a hotel cum resort on the same Greek island. There, she raises her daughter, Sophie (Amanda Seyfried), whose paternal parentage is in question thanks to Donna's freewheeling summer of love.
Sophie, though only twenty, is all set to marry a randomly introduced and hastily sketched Brit named Sky (Dominic Cooper).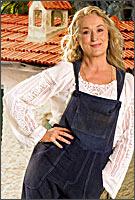 And while she was supposedly bred and raised on this remote Greek island, Sophie behaves like an American highschooler – all the way down to the eeks, shrieks and gossip -- an entirely unbelievable touch. Does she speak Greek? We never learn.
After pilfering and reading aloud her mother's tell-all diary, Sophie conceives a plan to bring Donna's three former lovers together, so that she can finally meet her real father, whom she will supposedly recognise at first glance. Without telling Donna, she invites them all to her wedding by the sea, so that one of them can give her away on her wedding day, though they've never met her and haven't seen her mother in decades.
Also attending the wedding are Donna's longtime friends and former bandmates: a lone-wolf, author of cook books, Rosie (Julie Walters) and the fake-breasted, overtly randy, three-time divorcee Tanya (Christine Baranski).
From there, former friends unite. Untold secrets are revealed. Much hilarity ensues. Yadda yadda yadda. And that's it for the mere semblance of a plot, which seems almost reluctantly laid down, as mere segues in between ABBA songs.
The three female friends and former bandmates do share chemistry and play off one another nicely enough, leading to genuine-sounding dialogue and a few heart-touching moments. They also assault with you with their middle-aged sexuality, making countless dirty jokes about young men and menopause, constantly referring to 'getting some'.
But beyond these three, the acting is laughably bad. Pierce Brosnan is disinterested as an actor and painful as a singer, not exactly what you'd hope for in your heavily hyped male lead. Colin Firth seems to be collecting a paycheque and little more. Seyfriend and Cooper are awful and behave more like they're on a blind date than as an engaged couple to be married.
The handling of the Greek 'locals' is absolutely appalling. Reduced to background characters -- actually, little more than caricatures -- they run around wearing traditional Greek clothing, drowning food in Olive Oil and carrying big, stinky fish. That's it for their contributions, though they obviously staff the hotel and occupy the island. It's bordering on offensive.
The settings are a little over-the-top. You're bashed over the head with gorgeous shots of seaside cliffs, shimmering bluegreen bays, majestic sunsets and lush green foliage. But, let's be serious, it's not exactly difficult to make Mediterranean islands look beautiful.
And they shouldn't serve as a substitute for a bonafide plot, as they often do: Oh, the dialogue doesn't make any sense? Have Sophie lean out over lapping waves and wistfully whisper something about a real father.
Then there are the obvious greenscreen scenes – Donna and friends whipping around the island in an uncovered jeep while catching up on time lost -- that are truly cringe worthy.
Oh yea, and there's the music. Though no one is as off-key, flat and downright annoying as Mr Brosnan, no one is exceptional either. There's not one vocal performance in the whole bunch that makes you sit back and say 'Wow!' It sounds like a bunch of half-drunk karaoke.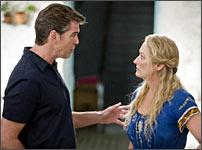 Now, regardless of whether or not ABBA's material is enough to prop up an entire film, the music could have and should have been better handled. A musical, for me at least, works when the transition into song is so natural, so timely, that you hardly even register the change.
Here, not so, as the run-ups and lead-ins to songs can be seen from miles away. A hasty, hackneyed discussion of Donna's financial peril launches the girl-trio into Money, Money, Money. A depressed Donna is roused from hiding in her bedroom by Tanya and Rosie, who remind her that she was once a 17-year old dancing queen. You can guess what comes next.
It was at about this time, halfway through the film, when people began politely leaving their seats and breaking for the exit signs. I envied them.
Come to think of it, I can only think of five reasons for any self-respecting male to travel to a theatre in order to see this: 1) You like ABBA, 2) You like musicals, 3) You're trying to score brownie points with a potential girlfriend or 4) You're trying to make up with a girlfriend for something stupid you did. 5) You're reviewing -- and likely hating -- it.
Bottom line: In terms of musicals and all they entail -- choreographed dances, ridiculous costumes, a dozen or more songs -- Hollywood can learn a lesson or two from its Bollywood brethren, who are the experts here, and it's almost silly to challenge them on their home turf.
Because, for a country that pumps out a never-ending stream of Rajnikanth mega-productions and Bollywood bashes, there is nothing that makes Mamma Mia stand out.
Rediff Rating: