Conscience. It is a word that makes a lot of people do things despite the fact that they get nothing from it.
But, what happens when your conscience compels you to do something good for humanity, even as you are confronted by brutal killings everywhere around? The situation would certainly put you in a fix -- especially if you were to become part of those killings. This is the situation young Scottish doctor Nicholas Garigan (James McAvoy) finds himself in, in The Last King of Scotland.
Garigan comes to Uganda with the intention of doing something good. He bumps into Idi Amin (Forest Whitaker, who bagged his first Best Actor Oscar for this role), and the two strike up a friendship. Amin soon offers Garigan the post of personal physician. Garigan takes it up reluctantly, only to find himself entangled in Amin's brutal politics of the 1970s when he ruled Uganda with an iron hand. He soon becomes Amin's right-hand man.
The problem begins when Garigan starts realising that Amin is not as nice as he portrays himself to be. Inspite of warnings about the leader's wrong-doings, he is unable to believe them because of his liking for Amin, who in turn, regards Garigan as his son. As time passes though, Garigan realises Amin is a monster. He makes up his mind to run away from Uganda, back to Scotland. How he tries to leave the country forms the rest of the story.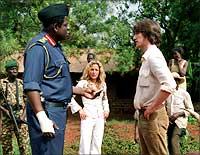 The Last King of Scotland is

based on the book by Giles Foden. Directed by Kevin MacDonald, it is apparently loosely based on the life of Bob Astles, the British soldier who became a close associate of Amin. He was imprisoned for six years after Amin's army was defeated in 1979 by Ugandan exiles with the help of Tanzanian Army. After his sentence, he stayed in England while Amin fled to Saudi Arabia, where he died in exile in 2003.

 

Forrest Whitaker makes you feel you are watching the real Amin. His gait, humour, dialogue delivery and, most importantly, his portrayal of the gruesome side of the dictator, gives you an insight into this historical character responsible for much suffering in Uganda.

 

Notable among his scenes is when he makes a sarcastic comment, at a party, about there being no human flesh served even though the party is in Africa. James McAvoy performs brilliantly too, and his chemistry with Whitaker makes you feel that they really regard themselves as father and son.

 

Rediff Rating: