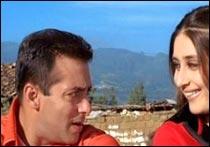 Think
Kyon Ki...
and the first name that pops in your head is Ekta Kapoor. Luckily, Priyadarshan's new film doesn't suffer from the
saas-bahu
syndrome.
A remake of his critically wowed 1986 Mohanlal starrer,
Thalavattam, Kyon Ki...
revolves around a man suffering from psychological problems.
Thalavattam
, too, drew its inspiration from Milos Forman's stirring classic,
One Flew Over the Cuckoo's Nest
, featuring Jack Nicholson in an Oscar winning performance.
Originally titled
Rahen Na Rahein Hum, Kyon Ki...
was to have Shah Rukh Khan in the lead role. However, owing to creative differences, SRK backed out and was promptly replaced by Salman Khan. Slated for a Diwali release, the film also stars Kareena Kapoor and Rimii Sen.
Composed by Himesh Reshammiya, the soundtrack opens with the title track. Dramatic emotions and a sense of hovering sadness linger prominently in this one. Sameer's expressive lyrics accompanied by Reshammiya's rousing compositions establish this quality well.
There is something about sad themes and melodrama. Remember the extremely popular
Tumse Milke Najane Kyon
from
Pyar Jhukta Nahin
? The song was repeated more than once in the film. Ditto for
Kyon Ki....
There are many versions of the song -- romantic, subdued, heart-rending. Even though
the song is decent though, there is always the overkill factor. It is repeated so many times in the album that you are forced to hum one of the verses from the song, '
kya jaan loge humari sanam
?' (Are you planning to kill me?)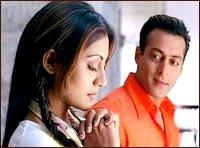 Kunal Ganjawala is currently the 'it' voice . He redoes his stylish footloose crooning, previously heard in
Murder's Bheege Honth Tere
for
Dil keh raha hai
. Stylish and catchy, there is nothing not to like about this breezy track. The remix version works like any other pumped up ditty, replete with jazzy beats et al.
Just when you are complimenting Reshammiya subconsciously for keeping the tunes linear and fancy-free, he jolts your senses with the grating
Jhatke Maare
. Roguish mischief and eve teasing galore take place in this 'dhinchak' brand of music.
By the time you reach Side B, the title song has played so often that any alternative should be lapped up, right? Wrong. Not when the alternative is the bland
Aa Jee Le Ik Pal Mein
. The high on philosophy number is as interesting as a bus stop. More insipidity is dished your way in the form of
Dil Ke Badle Sanam
.
That's pretty much the A to Z of
Kyon Ki...
Dull, eh? But then, Priyadartshan's films are not really known for their music. And in the case of
Kyon Ki...
, apart from a couple of songs, there isn't much to brag about either.