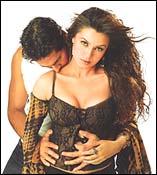 Once upon a time in Bollywood, the Nadeem-Shravan duo was synonymous with hit soundtracks.
That is why it is hard to believe it is they who have scored the music for Gumnaam: The Unknown, which stars Dino Morea, Mahima Chaudhry and Suman Ranganathan.
The duo — who gave us such memorable soundtracks as Aashiqui, Dil Hai Ki Manta Nahi, Saajan and Sadak — are at their uninspiring best in Gumnaam.
The album, which has eight below-average tracks, begins with the insufferable and insipid duet, Mohabbat Se. To add to the agony, the song, devoid of any poetry or passion, is repeated thrice! Udit Narayan, Shreya Ghosal, Abhijeet and Monica Nath all have a go at it, and yet Mohabbat Se remains trite.
Even before you recover from Mohabbat, Shaan and Sunidhi Chauhan hurl Zaalim Ishq at you. Without even an iota of melody, Zaalim is sure to give you a headache with its screechy overtones and bothersome beats.
You can almost visualise Adnan Sami clutching his heart as he moans Ishq Ne Itna Majboor Kiya in his trademark [read melodramatic] style. But the tuneless ditty doesn't touch you there.
Dhoke Mein sounds like a cross between European singer Tarkan's Simarik and Dhoom's foot-tapping title song Dhoom Machale Dhoom. But don't be fooled, it's not a very inspiring combination. 
There is, however, hope for the intrepid who manage to get to Naa Hone Denge. Kumar Sanu and Alka Yagnik pull off this fairly exuberant and catchy number. It has a club mix version as well. 
Overall, the music of Gumnaam — a combination of uninspired lyrics (Sameer) and mundane music — is best left unknown.