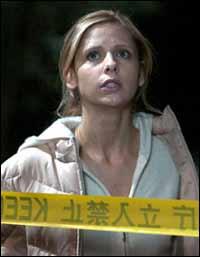 F
aring better than expectations and offering a decent load of scares,
The Grudge
has more than a ghost of a chance of swallowing 
Shark Tale
and taking over the top spot at the North American box office this weekend.
But this is certainly not a film for those who want megawatt jolts and who expect a gore fest of a typical American horror film.

The scares here come more from human predicaments than from special effects and blaring music.

Director Sam Raimi, a long-time admirer of Japanese horror films especially those dealing with angry ghosts, and whose Spider-Man series have a huge following, has produced The Grudge. 

Admirers of Takashi Shimizu's hit Ju-on will be far from being horrified by the Hollywood version of the film.
Unlike the current hit Shall We Dance?, which lost much of the innocence of the Japanese original when it was remade by an American director, The Grudge has retained much of the integrity of the original version.
Significantly, Shimizu directed the new version. Sony/Columbia also allowed him a free hand in working with the American screenplay writer. The thin plot is made appealing by several factors including a gritty atmosphere.
The film revolves around a house where a double murder and suicide has taken place. The anguished spirits are terrorising those who get into the house. The death of an American (Bill Pullman) who crashes into the pavement of his Tokyo house is one of the intriguing elements early on. It takes some time to realise what was behind his death.

Then there is the exchange student and social worker Karen (Sarah Michelle Gellar) who is in Japan with her boyfriend (Jason Behr). Even as she struggles to understand the world around her and the customs that are alien to her, she gets caught in the mysterious and eerie happenings.

Karen's odyssey begins when she volunteers to housesit a bedridden American woman (Grace Zabriskie) who is seemingly living alone amidst squalor. But soon Karen realises that the woman isn't alone in the house.

Soon Karen joins a detective (Ryo Ishibashi) to investigate the haunted house phenomenon. They fight many odds even as they remind themselves that their lives can never be out of danger.

Gellar and Pullman offer ho-hum performances. They are easily overshadowed by seven-year-old Yuya Ozeki from the original. Takako Fuji, a veteran of Japanese horror films, plays the chief ghost with quite an evil force.