Dominic Toretto is back and though he may not be as readily iconic a character as say the Terminator or Neo it is good to see that shaven head behind the wheel of a souped-up car again.
The second of the three characters that Vin Diesel made famous a few years ago (Riddick from Pitch Black and Xander Cage from xXx being the other two) returns with the rest of crew from the first movie in this fourth go around for fast cars and testosterone-fuelled posturing entitled Fast & Furious.
Brian O'Conner (Paul Walker) is still FBI, Dominic is still boosting contraband in high-risk situations and the ladies are called upon to do little more than growl and posture (Michelle Rodriguez as Letty) or pout and shed tears (Jordana Brewster as Mia) and things come to a head when a death brings the boys together, almost against their will.
O'Conner and Toretto's paths cross when the FBI's investigation into drug-running involving highly-skilled drivers in super fast cars intersects with Toretto's quest for revenge. With the men behind the wheels of mean machines and the energy levels pumped up to maximum, things are set up to be stylishly intense for most of the film's running time.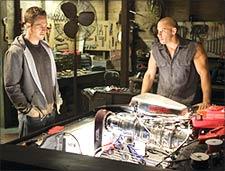 If you've ever seen even a part of one of the movies in the Fast/Furious series, you know that some talking happens between fast driving set-pieces designed to make you grip your seat arms in excitement and blow you back against multiplex upholstery. This latest edition does not skimp on the fast driving extravaganzas.
Beginning with the illegal appropriation of gasoline in the Dominican Republic, and leading through races in night-time traffic, across borders through a labyrinth of underground tunnels (twice) and using increasingly high-tech gadgetry to stay below police (and other law enforcement) radar, the juice is always wrung right out of every action sequence. Cars are smashed, blown up, driven into each other and there is so much metal-on-metal action that a car fetishist should be well and truly spent by the time the end credits roll on this bad boy.
Along the way, Diesel also gets to play 'car whisperer' while checking out the scene of a car crash that sends him on his quest for revenge and moments like that are handled in a manner suggesting that there might still be some freshness left in this nearly decade-old franchise.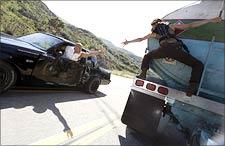 Of the performances there is precious little material to comment upon when it comes to the performances of the leading ladies (if you can call them that); Liza Lapira (as FBI Agent Trinh) and Gal Gadot (as bad-girl-with-a-good-heart Gisele) have bigger speaking parts. Paul Walker seems to have gotten better with age and this version of his Brian O'Conner is the best we've seen in the series.
All said and done though, this is Vin Diesel's show (how cool a name is that for an actor in a film about motor vehicles?) and he frowns and growls his way through it with the aplomb that had led many people to believe that he would end up the successor to the action hero crowns shared by the likes of Stallone and Schwarzenegger.
The talky parts could have been shorter in this movie and there are still points during the action sequences where you don't know who is in front and who is giving chase. That said, this is definitely a return to the form of the original and returning director Justin Lin (he also directed the third installment) has delivered a film that could nicely set up a fifth film if this one makes enough money.
One thing is for certain though -- these movies are only really fun when Dominic and Brian do their thing together.
Rediff Rating: