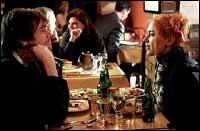 It takes a few minutes to realise that Eternal Sunshine Of The Spotless Mind has begun its seduction. You will find it impossible to resist this quirky, comic and touching film.
In the end, what you may really cherish is not its smartness but its endearing appeal as a love story.
This is the kind of film that will not allow you to reach for your popcorn or soda. You want to enjoy every word, follow every twist in the script and marvel at the way the seemingly complicated plot devices are merged. There is even a bit of suspense when Jim Carrey's character tries to stop a procedure of memory erasure that he had anxiously sought.

It has been well advertised that this film does not belong to the over-the-top comedies Jim Carrey is known for. It was released in just about 1,500 theatres across North America, half the number that screened the previous Carrey film, Bruce Almighty, which grossed over $50 million in its opening weekend last year. Eternal Sunshine, which opened with a modest $8 million gross, may not match in its entire run the three-day opening of Bruce Almighty. But since it was made for about $35 million -- a typical Jim Carrey film costs $80 million -- it is bound to be a modest hit once it hits the video and DVD market.


Screenwriter Charlie Kaufman (
Being John Malkovich, Adaptation
) and director Michael Gondry, with ample co-operation from Carrey, have produced one of the most arresting films in recent years. In misguided and more ambitious hands, this film, revolving around the memory erasure theme, may have become a big budget sci-fi saga. But Kaufman and Gondry are more concerned with the emotional truth arising out of the two estranged souls -- Carrey and his screen girlfriend Kate Winslet.
Carrey has attempted weighty roles in such films as
The Truman Story
with limited success. But he is impressive here. He is sensationally funny when the script calls; and a thoughtful and sensitive person on other occasions.
Kate Winslet, who has not had challenging roles in a long time, is also impressive as Carrey's headstrong lover. It is a complicated and multi-nuanced character, and Winslet starts owning it right from the start.
But the film may have succeeded with even lesser performances because of the inventive script and sure handed direction.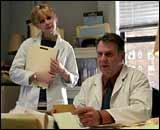 The story revolves around the lovers Joel Barish (Carrey) and Clementine (Winslet), whose conflicting natures result in serious emotional crises. The more tempestuous of the two, Clementine seeks a scientist Howard Mierzwiak (Tom Wilkinson) who can erase painful memories. She wants every trace of Joel's memory erased from her mind.
When Joel gets to know of Clementine's plan, he feels insulted, hurt and humiliated. Feeling spiteful, he too decides to erase her memories.
After taking a knockout pill at night, Joel falls into a deep sleep while two of Mierzwiak's assistants, Stan (Mark Ruffalo) and Patrick (Elijah Wood), start working on the memory-erasing procedure.
As the procedure starts working, Joel realises how good a relationship he had with Clementine, and he begins to hide in his mind the precious memories, driving the technicians and scientist crazy.
There are other complications: in Joel's bedroom, Stan and Patrick -- later joined by Stan's girlfriend (Kirsten Dunst) -- decide to have fun that threatens to turn sour when Patrick confesses he had fallen in love with Clementine while working on her memories.
But the subplot never comes on the way of the main story that becomes suspenseful as a frantic race ensues between Joel's desperate efforts to cling to Clementine's memories and the scientists efforts to erase them.
While Carrey and Winslet are making headlines with their heartfelt performances, let us not overlook Wilkinson as the muddled scientist, Ruffalo as the unthinking technician and Wood, whose psychological rape of his former patient brings out plenty of nastiness. Dunst, whose wide-eyed admiration of scientists offers yet another thought-provoking strand in the film, also gives an assured performance.
One comes out of the theatre wondering at the craftsmanship of Kaufman and Gondry who are in great shape here after their less than satisfactory collaboration of
The Human Nature
, two years ago.
No memory erasure programmer can take out the
Eternal Sunshine
from one's mind.
CREDITS

Cast:
Jim Carrey, Kate Winslet, Elijah Wood, Mark Ruffalo, Kirsten Dunst
Director
: Michael Gondry
Written by
: Charlie Kaufman
Running time
: 107 minutes
Rating
: R for language, some drug and sexual content
Released by
: Focus Features