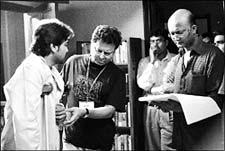 Rituparno Ghosh is a master storyteller. There is no doubt about that. He proves the point once again with his and Planman's latest production, Dosar.

Set in the backdrop of 21st century urban Kolkata and dealing with extra-marital affairs, the gripping storyline could have taken place in any metro.

The story starts off with the male protagonist (or antagonist, depending on your perspective) Koushik (Prosenjit) and his colleague-cum-beau Meeta (Chandrayee Ghosh) checking out of a hotel. Within a few minutes, you realise that Meeta is not his legitimate wife, but his companion – dosar. Before you start wondering what next, their car is involved in a bad accident and Meeta dies on the spot. Though Koushik suffers multiple injuries, he survives. And that is when the film really begins.





Top 10 Madhuri Dixit films

Who was Prithviraj Chauhan?

First Look:

Jackie Depp?



Kaberi (Konkona Sen Sharma) rushes to the hospital, only to find out that her husband is critically injured. The agony, anger and grief – combined with the uncertainty of whether he will live – are portrayed beautifully by Konkona.

Initially, she refuses to take care of her husband and even sign on the hospital papers. She calls a lawyer to file for divorce and even fights with her brother-in-law, but things slowly change once Koushik is back home. The wife in Kaberi overpowers the woman in Kaberi and she accepts Koushik's infidelity as a one-time fault.

The storyline sounds simple and, perhaps, clichéd. What makes it different is the treatment and the screenplay. Rituparno deals with human emotions very well and provides equal space and opportunity for all characters to develop. Specially the dilemma and dichotomy we face in today's world.

Sample this: While Kaberi is up in arms against Koushik for his infidelity, she doesn't think twice before supporting friends Chhanda (Pallavi Chatterjee) and Bobby (Paramabrata Chattopadhyay) for having an extra-marital affair. "Her husband's a monster," is her logic. It is only after she faces the trauma of dealing with her spouse's affair herself that she starts discouraging her friends.

Human emotions are beautifully portrayed – be it Koushik's trauma when he finds out that his beau Meeta is dead, or Kaberi's anxiety-cum-anger when she sees her unfaithful husband in the ICU.

What is not beautifully portrayed is the unnecessary love scenes between Chhanda and Bobby, and Meeta's husband and a prostitute. Unnecessary sex scenes, for unknown reasons, have been present in a number of Rituparno's films – be it Dosar or Shubho Mahurat.

Both Prasenjit and Konkona, particularly the latter, offer great performances. Konkona's just-right emotions reminds one of her mother, Aparna Sen. However, one fails to understand the reason for the film being shot in black and white. It feels nice, nevertheless. Good background music and near-perfect cinematography offer the required support.

Overall, an immensely watchable film.

Rediff Rating: