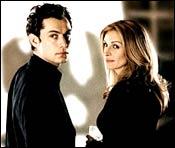 This is not the first time Julia Roberts steps out of her usually sunny persona, but that's not the reason Closer might enjoy barely half the popularity of her standard successes.

The star-studded story of sexual entanglements involving a photographer, a writer, a stripper and a doctor is filled with so much duplicity, betrayal and confessions bordering on sadism that it may present a problem to many fans.

Some may also feel a little embarrassed by the film's frank dealing with sadomasochistic sexuality and brazen adultery.

Art-house divisions of major studios usually handles a film of this nature, but Columbia has boldly ventured to make it a mainstream event. Even though the film had a strong opening with a $7.7 million gross in just about 476 theaters, it has been struck with a forbidding R rating, for its graphic sexual dialogue and nudity.

Mostly dark and intense, Closer, is designed with much more sophistication by director Mike Nichols whose benchmark debut, the unpolished gem Who's Afraid of Virginia Woolf? dealt with failing relationship in a more efficient way over 37 years ago.
Patrick Marber's play of the same name was a sensation when it opened in London in 1997. It came to Broadway two years later and had a solid run, garnering a Tony Award. Marber was reportedly reluctant to part with the movie rights worried that Hollywood or even a British director could mishandle his work but meeting the great Nichols a couple of years ago assuaged his fears.
Despite its mostly strong performances, piercing dialogue, the movie is too cold. It doesn't take long to realise the irony of the movie's title.

Nichols and Marber take us quite deep into the minds of their characters. But one wishes they showed us a glimpse of their hearts.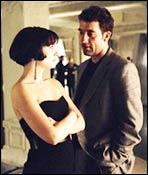 There is nothing wrong in making each of the four main characters thoroughly distasteful, but isn't there some hint of humanity lurking somewhere?   

If you hesitate to see the film because actor Jude Law's character has some resemblance to the one he played in the recent disaster Alfie, you have to change your mind. For this is a very different film and despite its iciness and bleak nature, it has a far better film with more merits than most films around.
For Mike Nichols adultery, sexual malfunctioning and dysfunctional relationships is familiar territory. In nearly four decades he's spent in Hollywood, he has dealt with these subjects in the comedic The Graduate, the gut-tearing (and yet funny) Who's Afraid of …?, comedic melodrama Carnal Knowledge, and of course in the recent telefilm Angels in America, a major accomplishment.

As Closer starts with a visually gripping and well-edited first encounter between Dan (Law), an obituary writer who wants to be a novelist and a feisty, young erotic dancer Alice (Natalie Portman), we see no hint of the disasters hovering around the corner.

When Alice, not accustomed to left-side-of-street driving and new to London, is hit by a taxi, Dan takes her to the hospital. She reveals that she was a stripper in New York and had recently left the city because she wanted to get rid of a guy.

A few years later, we see Dan with a seemingly staid photographer Anna (Roberts) taking his picture for the jacket of his first novel. Dan begins flirting with Anna.

There is confrontation between Alice and Anna but after the tension eases, the two will remain in contact.

Adding to the drama that is becoming increasingly tense is Larry (Clive Owen), a kinky dermatologist who is flirting with "Anna" in an Internet sex chat room.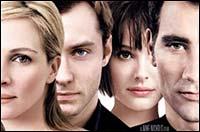 But the "Anna" is really Dan, whose sadistic impulses are also unpredictable. He leads Larry to an aquarium to meet the actual Anna, who has no idea of the game Dan has been playing.

In one of the more surreal sequences, Larry and Anna hit it off. But their friendship only leads to more complications, angst, jealousy and bitterness.  

The story, spread over four years, shows how the four lives are mixed up with each other, leading them into doom.   

Law plays the sexual opportunist with far more conviction than many of his recent performances. Owen invests his part with brooding quality. But it is Portman, who is playing her first big sexy lead, that holds our attention most. Apart from an arresting performance, she also invests her character with fleeting moments of innocence.

But Roberts, despite the evident effort, cannot really get rid of her goody-goody image. And yet many in Hollywood believe that she could get yet another Oscar nomination. That would, in my opinion, be a pity.
CREDITS:
Directed by: Mike Nichols
Scripted by: Patrick Marber based on his play
Starring: Julia Roberts, Jude Law, Natalie Portman and Clive Owen.
Running time: 1 hour 40 minutes
Rating: R for language, partial nudity, sexuality.