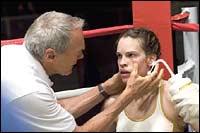 T
he amazing Clint Eastwood has done something many veterans can't achieve -- he has followed one enduring film after another. He has delivered a dark but humanistic, sad, gripping and life-illumining film,
Million Dollar Baby
that has immediately soared into the top five movies list of the year. Many reviewers would gladly call it the year's best.
On the surface, it is a boxing story of an uncommon endeavour. But it slowly enters a territory that the writer Graham Greene often explored: the condition of the soul and possibilities of unorthodox redemption.

The new movie, in which 74-year-old Eastwood also plays the lead, came in less than a year after he surprised us with Mystic River, a $35 million surprise hit that glossed about $180 million worldwide.


The new film may not match the mid-range business of
Mystic River
, for it is far more sparse than the previous film and some viewers may find the film -- set mostly in the gym or boxing ring -- claustrophobic.
For his previous film, Eastwood mined Dennis Lehane's cerebral mystery novel. Now, he turned to a story in
Rope Burns
, a collection of stories and a novella published five years ago and reissued as
Million Dollar Baby
.
F X Toole (Jerry Boyd in real life) was 69 when his collection, written between gigs as a fight-manager and a ring worker who stanched the blood flow of the boxers, was published by a small press and went on to become a cult success five years ago. The best story in the book was titled
Million Dollar Baby
and it was woven around gutsy Maggie Fitzgerald and her quest to become a boxer champ.
Hollywood actors love to work under Eastwood, a filmmaker who gives the artists plenty of breathing room and extracts deeply etched performances from them.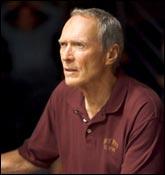 The new film will surprise even those who have seen Eastwood coax wonderful performances from, ranging from Kevin Bacon to Morgan Freeman. They will be stunned to watch Hillary Swank burn the screen as a woman determined to be a boxer and whose life takes a sudden turn. You may feel her Oscar winning performance in Boys Don't Cry (1999) was a mere preparation for the epochal performance here. Till just a few months ago, people had wondered what had happened to Swank despite a decent performance in the successful film Insomnia, two years ago. Now, she may say that she was preparing herself for Million Dollar Baby.

In the wake of a bitter estrangement from his daughter, boxing trainer Frankie Dunn is afraid of forging a close relationship with anyone, though we suspect he is hiding his affection for former boxer Scrap.

When 31-year-old Maggie Fitzgerald, whose past is also troubled, walks into the gym run by Scrap and seeks training to be a boxer, the emotionally frigid Frankie tries to push her away. He just does not want to take any more responsibilities. But he realises he cannot succeed shunning Maggie.
The relationship between the two remains uneasy, though we can predict that Frankie won't be able to ignore Maggie's determination and stamina and the two develop a father-daughter kind of bond. And yet there is always an uneasy feeling that something may suddenly snap. Frankie cannot forget being the cutman on Scrap's last fight that turned brutal with Scrap losing an eye. Frankie surely hasn't forgiven himself for not having stopped the fight in time.

Eastwood does not resort to quick resolutions of tension throughout the film.
He slowly lets us look deep into the soul of his characters, especially that of the morally fractured Frankie who attends mass many times a week but seems to be doing so only to argue with the priest (Brian O'Byrne, adding yet one more powerful performance to the film).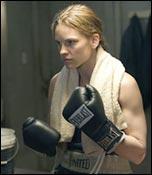 The story takes an unexpected tragic turn just as Maggie reaches the championship level, and soon, its main characters wrestle with love, commitment, redemption and quality of mercy.

Eastwood elicits electrifying performances from his cast, especially from Morgan Freeman, producing his best work after his famous 1992 collaboration with Eastwood in Unforgiven. Eastwood also looks after himself well. His stripped-down performance, even more haunting and powerful than his work in the Oscar-winning Unforgiven, often sends chills down the spine. And it contrasts well with the often ferocious outpour by Swank.

As in Mystic River, Eastwood uses his hauntingly melancholic score to enhance the film's proceedings. The movie's physical look owes a lot to Henry Bumstead's realistic sets. And Tom Stern's cinematography suitably lights up the dark corners of this soul-stirring film.
But the most surprising contribution comes from screenplay writer Paul Haggis better known for his work as a writer on LA Law. Haggis has also directed Crash, a film starring Sandra Bullock and Don Cheadle, that created quite an impression at the Toronto International Film Festival in September.

Eastwood admirers cannot help but think of his entertaining but troubling vigilante films of the early 1970s, especially Dirty Harry, and how in recent years he has taken a very humanistic approach. If Eastwood, still a Republican, were to run for office, it is doubtful if President Bush would endorse him, given Eastwood's opposition to the death penalty. And if Bush were to see Million Dollar Baby, the God-fearing President may demand Eastwood seek counseling from a born-again minister.

If someone were to ask you what Million Dollar Baby is about, you may want to say it is about boxing. And you would not be wrong. You may also want to say it is about troubled relationships. Again, you would be right. But you could also say that the boxing yarn provides the backdrop for a story into the mysteries of the soul and spiritual grace.