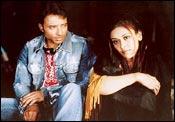 This has got to be the mother of all potboilers, pun intended.
Director Tigmanshu Dhulia's Charas -- A Joint Effort scales new highs, as plots go, in the Hindi film industry.

The basic premise is drug trafficking. But in due course, the film takes on the Indian police and the political system and everything that is wrong with them to weed out, literally, all deceit and corruption.

With crooked British politicians, turbaned and bearded Afghanis, Paki spies, even Italian mafia dons that spew, "Kill all Indians!" thrown into this melting pot, you better believe Hindi cinema is going international.
There are also liberal lessons in friendship as well as good doses of patriotism. 

It begins simply enough with the disappearance of British botany student Sam Higgins (Adam Bedi). He is snared 'somewhere in the hills of India' in the den of a cannabis cultivator called Policeman (Irrfan). To investigate the case, Dev Anand (Jimmy Shergil), a British police officer of Indian origin, is packed off on his first trip to India.

In Delhi, he meets the happy-go-lucky Ashraf (Uday Chopra), who consents to being his guide on his trip to the hills. These hills are alive with stoned phirangs swaying to a different sound of music. Along the way, our heroes bump into school teacher Naina (Hrishitaa Bhatt), and Pia (Namrata Shirodkar) who loves ice-cream as much as she does a good drag.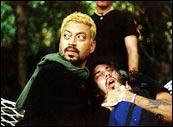 Tracing Sam Higgins turns out to be a perilous task for Dev.
And under the smokescreen, as Pia sways to the tunes of Yeh dhuan, no one is whom he or she claims to be. The story then rewinds to flashbacks.

Like his earlier film Haasil, which was based on college gang wars, Dhulia tackles a daring subject with Charas. The interwoven plots may seem a tad unbelievable -- there is only so much that providence and poetic license can account for.
All said and done, it is a tight job. Dhulia wastes little time in introducing his characters, leaving the twists for post-intermission. Top marks to him for effort.

Though the editing (Asim Sinha) is patchy, the visuals (Setu) and music (Raju Singh) more than compensate.
The performances account for a lot. Irrfan, riding high on the acclaim he won for Maqbool, is good here as the peroxide blonde don Policeman. Uday Chopra seems to have come into his own with an author-backed role and Jimmy Shergil is an earnest Dev Anand.

Namrata Shirodkar and Hrishitaa Bhatt emote well and put in controlled performances. From the supporting cast, the characters of Politician Tiwari and his sidekick stand out.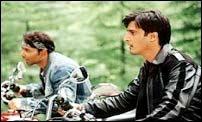 Charas is a compelling watch. So catch it, even if it is just for kicks. 
CREDITS
Cast: Jimmy Shergil, Uday Chopra, Namrata Shirodkar, Hrishitaa Bhatt, Irrfan
Director: Tigmanshu Dhulia
Producer: Anjum Rizvi
Music: Raju Singh
Lyrics: Javed Akhtar
Cinematography: Setu