All you need is love, sang the Beatles in the Swinging Sixties.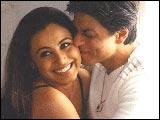 Cut to 2003. Director Aziz Mirza begs to differ with his cinematic offering on matrimony and life thereafter with Chalte Chalte, starring Shah Rukh Khan and Rani Mukerji. Unfortunately, the tale is as hackneyed as they come.
Raj is the owner of Raj Transport Company. Apart from getting in the driver's seat at the drop of a hat, he is also an ardent admirer of Sunny Deol's songs. Thanks to accidental coincidences -- we mean that literally -- he finds the lady of his dreams in Priya (Rani Mukerji) on a trip to the Maharashtra hill station Mahabaleshwar.
Now, she is from Greece and working her way up as a fashion designer. Her character sketch is all the originality the film can boast of.
Opposites attract. Chalk meets cheese, though Raj's losing of Priya's telephone number delays that a bit. But Priya is to be betrothed to Sameer (Jas Arora), a childhood friend, in Athens and won't give in to Raj's charms.
No regrets, for Raj will not let the woman of his dreams get away that easily. He follows her to Greece. After the perfunctory jaunt through Mikanos amusement parks, Priya discovers she too cares for Raj.
Mid-film climax -- the engagement is called off and the two are hitched.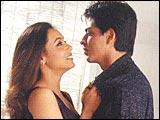 A year later, marital bliss takes a hike. For whom do those wedding bells toll now? Priya, the perfectionist, cannot bear Raj's unpunctuality or his wet bath towel on the bed and shoes out of place. Raj cannot handle the nagging or the fact that Priya's family keeps comparing him with the more successful Sameer. Though domestic squabbles see the marriage head for hell's highway, the couple kisses and makes up soon enough.
But matters reach the point of no return when Priya borrows Rs 15 lakh from Sameer to help Raj out of an impending insolvency. Hubby's pride takes a beating and he breaks bottles, shoos off guests at a party, and embarrasses and insults Priya in front of Sameer.
That is enough to have her packing and moving in with Anna Mausi (Lilette Dubey), who never approved of Raj anyway. Will she return? Will love find a way to make her stay?
Wait till the film's television rights have been bought to find out. Chalte Chalte rides on a wafer-thin plot. What could have been an interesting study of marital relations disintegrates into soppy fare. And the blame lies entirely with the exasperatingly predictable screenplay and tacky dialogue.
Shah Rukh hams and haws his way through the film -- biting his lip, crinkling his eyebrows -- it is oh-so-familiar. He is over the top, especially as the inebriated Raj who confronts the estranged wife.
Rani, looking like a million bucks, makes for an earnest and an endearing Priya. The rest of the cast's characterisations -- Johnny Lever's roadside drunk Nandu, Satish Shah's Gujarati Mannubhai or Bobby Darling, the ubiquitous gay character -- are too caricaturish for their own good. The humour is infuriatingly forced. And pointless.
After Phir Bhi Dil Hai Hindustani and Asoka, producers Dreamz Unlimited hoped for redemption with this film. That does not look like happening. But with all the product placements they have -- from Castrol engine oil to Pepsi -- they have probably broken even already.