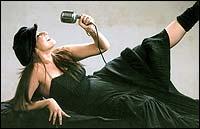 C
hahat - Ek Nasha definitely does
not
do justice to its title. So I've rechristened the movie to
Chahat - Ek Saza!
If you don't find a more economical way to torture yourself, then this movie is for you.
The movie was in the news recently because apparently, it takes its inspiration from the lives of Madonna [ Images ] and Britney Spears [ Images ]. That may have been the only reason why a handful of people actually made it to theatres to watch it. The reason why a third of the audience did not walk out might have been in anticipation of the supposed lip-locked sequence between Manisha Koirala [ Images ] ('playing' Madonna) and Preeti Jhangiani [ Images ] ('playing' Britney).
The grapevine, alas, had no roots in reality.
The story opens with Jhangiani aka Rashmi Jaitley, a pop aspirant gyrating to music and making a hopeless attempt at being sensuous. Her idol is Mallika Arora aka Koirala, who is the undisputed pop star madly in love with a music company magnate Rahul Kapoor aka Aryan Vaid [ Images ]. But when he proposes marriage, she does not accept it, as she believes that marriage kills love!
Sharad Kapoor aka Jaidev, Manisha's bodyguard, is a volcano waiting to erupt. His temperature rises by a few degrees after every two scenes! He is also in love with Mallika.
Rashmi makes it big in Rahul's new video and not just enters the music world but Rahul's life as well (so much for originality!).
Now, if you are beginning to think you could have written a better story, you are right! Me too!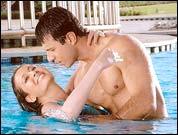 Rahul suddenly realises that he is in love with Rashmi (now what kind of love is that?). They decide to get married.
Suddenly, Mallika also wants to get married to Rahul. In her state of drunkenness, she orders Jaidev to kill Rahul, who is too eager to do it anyway.
The morning after, she realises her mistake and orders Jaidev to return. But it's too late. Mr Rebel-without-a-cause is already at the climax scene.
So what happens next? If you've watched enough Hindi movies, you'd have figured that out anyway. This movie is too predictable!
Things to watch out for:

*Steamy scenes between Manisha, Preeti and Aryan
*Sayaji Shinde [
Images
], the only relief in the film.
Let me sum up the movie in just two words: PURE TORTURE!