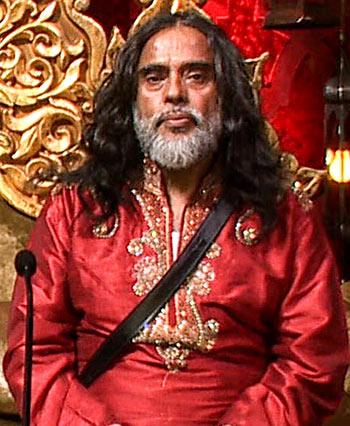 Bigg Boss ordered Manveer to pack Swami Om's bags. Does that signal a surprise eviction, wonders Divya Nair.
Highlights
Rohan and Lopa argue
Nitibha feels isolated
Mona nominates herself, saves Manu
What's garam
Lopa lashes out at Rohan
Video: Lopa and Rohan get into a heated argument. Swami calls himself a darpok.
Ever since Salman Khan pointed out how Lopa had made fun of Rohan's emotions, all's not well between the two friends.
In Monday's episode, the beauty queen accuses Rohan of not listening to her and declares she will never support him. In response, Rohan tells Lopa she doesn't deserve his friendship.
After a lot of fireworks, the two settle down and Lopa says she'll maintain her friendship.
Lopa, do you actually have a choice?
Bani and Swami unable to decide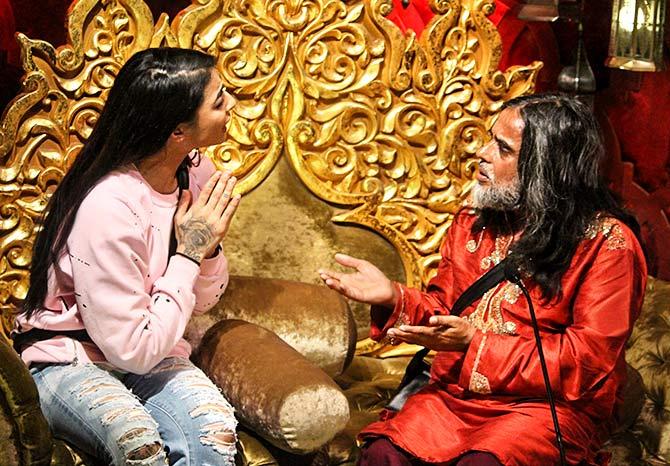 IMAGE: Bani tries to convince Swami Om to nominate himself
As part of the nominations, Bigg Boss had pitted two contestants against each other, asking them to decide whom to nominate and whom to save between themselves.
In an unexpected way, the conversation between Bani and Swami Om turned out to be entertaining. Bani annoyed the bluffmaster tremendously and made him taste his own medicine.
I could watch this clip over and over and not stop laughing.
What's thanda
Nitibha feels lonely
Since the last few days, Nitibha has been crumbling under pressure. You could blame it on Manu's re-entry, but her own demeanour towards her only friend, Manveer, is questionable.
It is clear that Nitibha has no friends in the house and, if she doesn't rework her strategy soon, she'll have to walk out through the door.
Manu-Mona's chemistry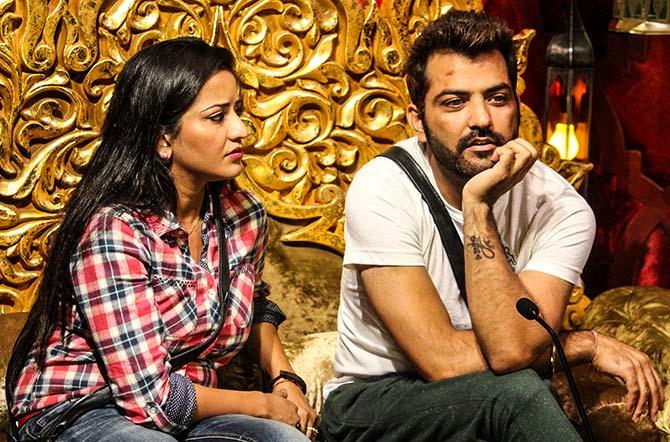 IMAGE: Mona and Manu during the nomination task.
By now, we're tired of Manu's fake sacrifices.
All these weeks he wanted Mona to leave the house but when it was finally his turn to nominate her, he pretended to be the large-hearted guy and offered to be nominated instead.
Dear Manu, we could see through your smart move -- Mona would have happily nominated herself to save you, but you still played her.