We've all kinda been there.
Alright, so we haven't woken up like Barry Badrinath, lying naked by the woods next to an antelope's carcass. Badrinath with a telltale red stain on his mouth, the animal with sizeable chunks missing from its neck.
We've been sloshed, hungover, but can't come close. Beerfest is a film positively drenched in lager, pissing over convention and showing us where we don't want (or dare) to end up. It is a film celebrating the -- both reprehensible and oddly admirable -- Super-Drunks. If you've ever woken up groggy and dry-mouthed, or with similarly afflicted buddies, you'll appreciate the moments.
By you, of course, I mean the guy who loves a chilled pint of the golden stuff. Yes, I said guy. This is the politically incorrect antithesis of the chick-flick, and contains juvenilia and testosterone in equal measure. Sure, the occasional gal will enjoy it, but Beerfest panders exclusively -- and with glorious lack of shame -- to the 16-year-old living in all grown men.
Special: A festival of beer and dirty jokes
Coming back to the nude Indian, Barry's eyes widen as he surveys the situation, and then, tush-wiggling as he flees into the woods, he says, 'Not again.'
The words, of course, completely define his character. Badrinath (played superbly by the film's director, Jay Chandrasekhar) is the absolute bottom of the barrel, a man who touches himself peculiarly for a dollar, and has no prospects. Except, that is, his unbelievable skills at Beer-Pong.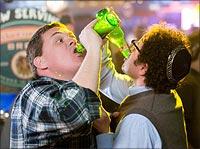 Which is why he's part of Team America, an eclectically assembled group of humiliated jerks trying at a last stab of glory. Beerfest is a (literally) underground global competition, taking place in Munich's seediest halls, even as an unsuspecting Germany raises a glad mug at Oktoberfest -- which in comparison, to politely paraphrase Team UK, is for blokes who, um, like sheep.
As said, the US-bred contingent, played by members of the Broken Lizard comedy troupe, is an odd assortment -- brothers Jan (Paul Soter) and Todd Wolfhouse (Erik Stolhankse), fighting for the honour of their great-grandmother; frog-pleasing scientist and devout Jew, Fink (Steve Lemme); and resident powerhouse not given to chewing his food, Landfill (Kevin Heffernan). And actors like Donald Sutherland,  and the incomparable Cloris Leachman have some interesting roles.
On paper, this may seem like your typical American Pie load of puerile pap, but Beerfest manages to be way more -- smarter written, unpredictably funny, wonderfully whimsical, well acted -- without dumbing down or going cheap. Sure, there's some largely-obligatory nudity, but it (hardly) deviates from the narrative. The mad, ruthless narrative that spares nary a target to mock, and spoofs everything from Eli Roth's godawful American-fools-lost-in-strange-European-alleyways Hostel to conventional buddy movies and sports films.
Not that it's a great film. To begin with, it's a good 15-20 minutes too long, and there are times the humour gets far too self-indulgent. By the end of it, the accent jokes begin to get tiresome, and there are bits in the film that make you wince. Oh, and it doesn't really have a plot.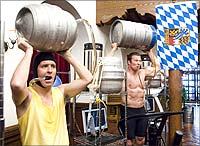 But then it doesn't need one.
Special: A festival of beer and dirty jokes
This is a film made by a bunch of guys having a blast, with some truly inspired lunacy. There's a scene where Chandrasekhar (the director indeed stealing the show in a very competitively cast film) gets drunk and nurses delusions of utter studliness. That scene -- and the one following at its heels -- is the film's crown jewel, both hilarious and universal, evoking universal male empathy. It's the kind of madcap brilliance that keeps this movie a rung above a guilty pleasure.
Watch Beerfest. Don't hit theatres, though. Grab some aptly given-to-high-fives friends, a screen in breathing distance from the refrigerator, and a DVD – the Indian censors mercilessly cut out some of the film's best bits, and, going back to the top of the review, the question poses itself: if we can see the director's posterior, why then must the wonderfully-bodied women be discriminated against? That, and you're likely to miss some good accent jokes.
Now, prosit.
Rediff Rating: