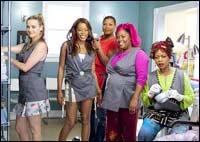 Following her ride to nowhere in the ill-fated Taxi, Queen Latifah is back in fine form in a fairly engaging comedy, Beauty Shop. Exuding charm and determination as she begins a new life after a fallout with self-absorbed barbershop owner Jorge Christophe (Kevin Bacon), Gina (Latifah) is on a terrific trip.
Her challenged new life, with its sweet, humorous and occasionally bitter turns, is the core of Beauty Shop. The best surprise about the film is that it works as a fine human drama, and not as a mere clone of the hit movie Barbershop.
As an aside, Barbershop star Ice Cube is one of the executive producers on this film, and Latifah doubles up as producer.
Endowed with a handful of arresting performances and a feel-good air, the new movie could give a close haircut to its competitor, last week's champ Guess Who.
This Queen Latifah movie could easily continue the list of recent films with African-American lead actors that have done excellent business in the past year across North America: Guess Who grossed a decent $30 million in its first week and the still formidable Hitch is headed for a $180 million gross.
Ending its run, the $5 million Diary Of A Mad Black Woman has pocketed $50 million, and Coach Carter was good for $66 million. And just a few weeks ago, Ice Cube toasted his highest grossing film, Are We There Yet?, which ended its run with $80 million. Of course, we cannot forget the Oscar-winner Ray with its $76 million gross. When it comes to movies, America is increasingly becoming colour blind.
In Beauty Shop, Gina arrives in Atlanta from Chicago (where she appeared briefly in Barbershop 2) and finds an old salon after she has quit working for Jorge. As she remodels it and prays for business, she knows she can hope to do well partly because of some smart workers from Jorge's shop joining her.
Among them is the shampoo girl (Alicia Silverstone) who gets a promotion at the new venue. Among the other interesting characters is the delightful Miss Josephine (Alfre Woodard) and Darnelle (Keshia Knight Pulliam from The Cosby Show).
But none dare come near Latifah. Whether she is confronting a bank manager reluctant to give her a loan or fending off Jorge's efforts to sabotage her business, her formidable presence holds the movie together.
Next to her, but in a smaller role, Djimon Hounsou, playing an electrician who happens to also be a pianist, gives a warm and heartfelt performance. His scenes with Gina's daughter, 11-year-old daughter Vanessa (Paige Hurd), a promising pianist, have a mature feeling. But the budding romance between him and Gina is not a surprise.
Though the movie flows well for the most part, there are times one wonders if Jorge's efforts to shut down Gina's shop could have been handled better.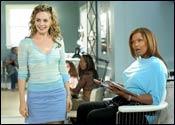 Perhaps keeping an eye firmly on broader appeal, the film is filled with quite a few white characters. Notable among them is Andie MacDowell who plays a role in deflating Jorge's vengeful efforts.
Among the smaller roles, Bryce Williams, playing an ex-con truck driver with an inexplicable knowledge of braids, leaves a mark.
Woodard is such a natural actress that she does a passionate and yet graceful recital of Maya Angelou's poem.
Surely the actors in the film seem to have good fun, with director Bille Woodruff giving them distinct personalities. Bacon's character is a bit too loud but even he is having fun.
You can easily make a list of complains against this film, but resisting it is hard. Try.