France, a country of culture, beauty and peace, and the perfect place to take a holiday. Not anymore. Mr Bean is back, ladies and gentlemen, and France will never be the same again!
British comedian Rowan Atkinson, 52, is back with a bang and he's brought along his most well loved character Mr Bean for his final performance. Mr Bean's Holiday is the last in the Bean series.
The premise is simple. The basic story is that Mr Bean wins a ticket to the Cannes Film Festival in a church raffle along with 200 euros spending money and a video camera using his trademark mischievous methods.
The entertainment begins the moment he steps onto the train. During his journey, Bean accidentally separates the son of a Cannes Film Festival judge (Baldry), from his father. Bean must help the kid find his father again and also provide bizarre Bean-style entertainment and amusement in the process. Further, Bean encounters a pretty French actress (Emma De Caunes) with a desire to become the next big star and a narcissistic film director (Willem Dafoe).
Although there is a linear story woven in, the film is essentially a bunch of mad situations that Bean gets himself in and out off. The comedy is obviously very physical, the stuff Bean is best known for. Some of the truly hilarious and imaginative situations are when his tie gets caught in a vending machine, when Bean electrocutes himself to stay awake and even mimes to various genres of music in a desperate attempt to make money. Other funny situations involve Bean eating a sea-food platter with fish that stare at him and a side-splitting scene where he waits indefinitely in the middle of nowhere for a lift.
There is also a hilarious subplot about Dafoe, playing an art-house director full of himself. The subplot goes on to spoof film critics and so called 'intellectual' cinema.
Finally, there is an interesting climax at the film festival.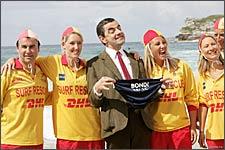 Atkinson's interpretation of the adorable goof-bag is very over-the-top and it works for the film's story most of the time. But clearly, the film is more or less a showcase of Rowan's acting skills and unbelievable comic timing. The gags and physical humour (there are some rehashed TV gags too) aren't exactly intellectual, but then again, this is the story of a man who locks his car literally and sings a lullaby to his teddy! Speaking of which, where is Teddy?  'Teddy' is not included in this movie and die-hard Bean loyalists are going to be disappointed.
There is a lot more that could have been done with Mr Bean's Holiday but it seems that writers Robin Driscoll and Simon McBurney are not sure whether they want to support a linear narrative or a passionate fan-base pleasing screenplay that would, like the TV series, basically be a line of connected humour sketches. Therein lies the problem and the film seems to be stuck in the middle. The pace drags at times too for this very reason.
The original Bean movie was far better and if you don't hold too many expectations from this sequel that bares no connection to its funnier former, you can sit back and enjoy a light evening of typical English-ishtyle bheja fry.
Rediff Rating: