P
osters of the film
Ab... Bas
(with tantalising glimpses of Diana Hayden's midriff and legs) seem too tempting to resist.
Sadly, however, director Rajesh Singh fails to capitalise on his film's USP -- Diana. It's time someone told Singh and, perhaps, Diana too, that breas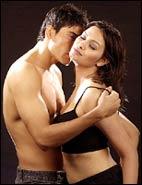 ts cannot act. Neither can the former Miss World title (she would do better if she exchanged notes with her predecessor Aishwarya Rai).
A chance to see Diana Hayden in her first solo-heroine role may draw the crowd for the first few days but a taut storyline and perfect execution are the tenets that make a film viable. And in these respects, Ab... Bas fails miserably. A single viewing is sure to give you a splitting headache.
Soumya (Diana) is a former beauty queen who shies away from marriage and thinks guys are not to be taken seriously. In comes Karan (Shawar Ali) whose attitude and respect for women has Soumya floored in no time. The inevitable happens and the two get married.
Thereafter, the story takes a dramatic turn as Soumya comes to know of Karan's fling and decides to leave him. Failing to put up with a now-overtly-possessive Karan, she flees with daughter Sara. This is when the real thrill (?) begins. No point telling you what happens in the end.
The plot bears an uncanny similarity with Sleeping With The Enemy and its Indian counterpart Agnisakshi. But if Nana Patekar and Manisha Koirala had put in wonderful performances in the latter, Diana and Shawar look like two brainless mannequins sleepwalking through their roles.
Ab... Bas
is dotted with glitches and it will take a day to list them. Here is one of the blatant ones: Karan wins Soumya's heart by taking resort to drama. He impresses her by rescuing her from a café-hoodlum's advances. On finding out later that the hoodlum was but Karan's friend and the two had set the small incident up to gain Soumya's confidence, she says, '
Kitna bewakoof thi main.'
Isn't it enough to make you tear your hair? Who is this film meant for, after all? Did the director feel two good-looking models with flawless skin and body will keep the viewers engrossed enough to throw every iota of logic and reason out of the window?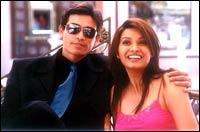 As for performances, lack of rehearsal and grooming stare hard at your face. Each time Shawar 'tries' to be intimate with Diana, she closes her eyes and that leads to even more disaster. What's even more disgusting is that these scenes don't get edited.
In one of the most romantic scenes, the couple looks petrified sporting an eager-to-get-over demeanour. It goes without saying that both Shawar and Diana need to spend some time honing their acting skills before returning to the sets. They must not forget: it's difficult to be a successful model but it is even more difficult to be a good actor. Possessing a great body does help but it cannot make an actor out of a model.
Lovemaking scenes look ill-planned, contrived and even inane. When will our Hindi film directors realise that we don't make love with our clothes on (neither do we bathe that way! In one scene, Soumya's passion is inflamed as she catches Karan in the shower with his underwear on!). Couldn't these scenes be done with some discretion?
As the film progresses, one is increasingly aware of the director's lack of focus. One can't know for sure if he had aimed a thriller, a family drama or a commentary on domestic violence. The film has a bit of everything in it. Which is why it never reaches a consummate end. It beats around too many bushes and never reaches a point.
There are a few non-mentionable songs in the film. But they just rub salt into your injury, and you want to say ab bas!