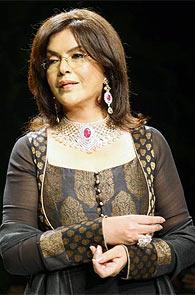 Zeenat Aman makes a comeback to the movies with the sequel to Dunno Y Na Jaane Kyun, a 2010 film based on a gay couple. She will play a Pakistani woman.

While the film's writer and main lead Kapil Sharma confirms Zeenat's presence in the sequel, he
is tightlipped about her part in it.
All he says is: "Zeenat
ji
plays Nazneen, a beautiful, dignified, liberal Pakistani lady. Her character binds the story together."
Sources say Zeenat will play the mother of one of the men in the relationship.
In the picture: Zeenat Aman. Photograph: Hitesh Harisinghani