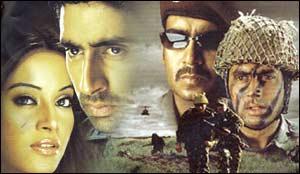 Lady Luck hasn't favoured Abhishek Bachchan as far as hits are concerned.
So far, most of his movies have been love stories. With Zameen, the actor tries his hand at action. 

Scheduled to release September 26, Zameen also features Ajay Devgan and Bipasha Basu. The film also marks the directorial debut of Rohit Shetty.

"Abhishek's performance is superb," says producer N R Pachisia. "People will love him as an action hero just like they liked his father Amitabh Bachchan."
| | |
| --- | --- |
| | More on Rediff! |
| | |
Scripted by former
rediff.com
staffer Suparn Verma, the plot is loosely based on the December 1999
hijack
of the Indian Airlines flight from Kathmandu to New Delhi.
"It is based on a real-life incident, but we have fictionalised it.
Zameen
has a lot of national sentiment. The film shows us how our soldiers work to save our country. I play an airhostess and Abhishek Bachchan's wife," says Basu about her role. 
"Luckily, I have played different kinds of roles, be it in Jism, Ajnabee or Zameen. I am trying hard to prove myself as an actress," she adds. 
Her favourite songs in Zameen include Tere sang ek simple si coffee and the item number Delhi ki sardi (picturised on Amrita Arora).
About Bachchan Jr, Basu says, "Somehow, his films have not clicked at the box office. He is a good actor. I hope he gets a hit with Zameen." 

Ajay Devgan echoes Basu, "Abhishek is a good friend of mine. He has performed brilliantly. You could see his skills improving every day. I hope this film does well for all of us."
The two are working together again in Mani Ratnam's under-production Yuva, co-starring Vivek Oberoi, Rani Mukerji, Kareena Kapoor and Simran.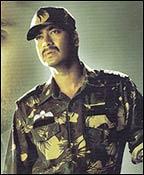 In Zameen, Bachchan plays the Assistant Commissioner of Police and Devgan plays Colonel Ranvir Ranavat. "A retired Indian Army Colonel guided us while making the film. It is a completely commercial and authentic film," says Devgan. 


Will Zameen be that elusive hit Bachchan Jr desperately needs? "Success and failure depend on luck. I believe he has great potential. And this is the first time he is in a full-fledged action film," says Pachisia. 

"Abhishek has a great future. If he gives me dates for 365 days, I will make more films with him. I have already made plans to make another film with him next year," he adds. 
Click here for More Features