Best known as the treacherous Lakha in Ashutosh Gowariker's Lagaan,  Yashpal Sharma is one of Bollywood's most distinct character actors.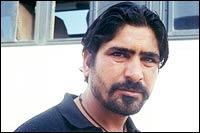 He seems to be specialising in period epics, because he features in Subhash Ghai's new film, Kisna.

In conversation with Patcy N, Yashpal is all praise for his Kisna co-stars:

I got this role because of Raja Sen, the film's associate director. He told me the story, and then took me to Subhashji. He [Sen] promised me the role, but it was not finalised. We had costume and make-up trials and a video audition. Then Subhashji chose me.

I play Shankar, who loves his younger brother Kisna (played by Vivek Oberoi). We are very close; I have taught him to fight. But I get angry with Kisna because he's always playing the flute, daydreaming of love, and doesn't have any love for his nation. Ultimately, Kisna becomes the true patriot.

It's not as if I betray Kisna, but I think differently. If the girl is British, then I'm against her because she's an angrez!

Amrish Puri [in his last role], who plays our uncle, keeps preaching the British should be killed. His character has negative shades. In the end, Shankar realises the difference between wrong and right, and I save Kisna's life. Rajat Kapur also plays a negative character.

Kisna is a story of three generations. The movie starts in the present day, where an old lady comes from England to India,

and the film goes into flashback. It starts when Kisna and I are kids in the 1930s and then zooms to 1947 when we are adults.

This is my first film with Subhashji, and I was excited because I've always wanted to work with him. He is the best director in India. He thinks about the entire movie, instead of just one actor or character.

Subhashji is also a very nice human being. He really gives his actors respect. He gave me some of the most important scenes in the film. I feature in the turning points of the story.

I had a scene in the film that was originally meant for Amrishji, but he was too unwell to do it. So Subhashji gave it to me. I was only told the morning before the shot. I was very scared!

It was a scene where we are complaining to a British official that the water in the pond is dirty and that he should do something about it. But he ignores it, and some villagers die. We then take out a protest march. Because Amrishji wasn't keeping well, I led the march. The scene came out very well. That was the most difficult scene and also my favourite!

After that, Subhashji gave a new dimension to my role.

Working with Amrishji was a different experience. We have done films together before but we weren't in the same scenes till Kisna. Despite his old age, he was so young at heart. He had a freshness and his sense of humour was tremendous! Most of the jokes he cracked on the sets were hilarious, but too personal to reveal. During the last schedule, he was looking very tired and ill. I still remember his immortal onscreen characters.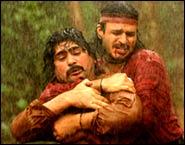 Vivek Oberoi is a very cooperative actor. This will be his best film till date. In some of our scenes together, he actually made me cry! His performance in the last scene is awesome. I'd acted with him in Dum before, so we had a good coordination and comfort level.
Isha Sharvani is a nice actress, and a dignified girl. I don't have any scenes with her in the movie. She has depth in her eyes. I met her mother Daksha Seth.
I have a few scenes with Antonia Bernath and she is superb. Yeh actress bawaal karegi! In the climax, she is just too good! And she is a very nice human being as well – we'd sit and talk frequently.
It's true I get too many negative roles but I also get roles that satisfy me as an actor. So I don't mind. I have to earn my living, so I can't be too choosy. And we don't have many villains in the industry at the moment. I don't believe there is anything such as black and white in a character. They're all human beings and I treat my role likewise. My villains have human feelings.
My forthcoming movies are Sujit Sarkar's Hazaron Khwaishe Aisi Yaahan and Ram Gopal Varma's D. Then, according to me, my best performance till date is in my forthcoming movie, Johnny Johnny Yes Papa, directed by Paresh Kamdar. I am also doing a film with Jhanu Baruwa, an Assamese director making a Hindi film tentatively titled Chasing Butterfly.