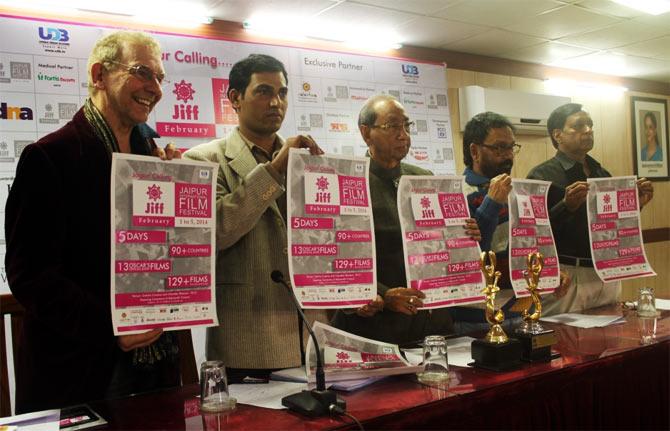 The sixth Jaipur International Film Festival will see 156 films from 90 countries screened at the festival.

The sixth Jaipur International Film Festival is all set to begin on February 1 in the Pink City.

This year will see 156 films from 90 countries screened at the festival. Out of these 121 films will compete in different categories.

The JIFF will begin with the screening of Pakistan's Zinda Bhag, directed by Meenu Gaur and Farjad Nabi. It stars Naseeruddin Shah.

The closing film is Gajendra Ahire's Touring Talkies.

Amol Palekar's film Paheli, starring Shah Rukh Khan and Rani Mukerji, and Malayalam film Celluloid will have special screenings.

The Lifetime Achievement award will be presented to Rajshri productions for their contribution to the Indian film industry and promoting Rajasthani art and culture in their movies.

A tribute will also be paid to late writer Vijay Dan Detha, who has penned several stories for several Hindi films.

JIFF 2014 will be inaugurated by a group of people, including Rajasthani filmmaker Mohan Singh Rathore, Qawwali singer Sayed Fareed Ameen Sabri, Kailash Kabir (son of Vijay Dan Detha), Rajshri Sarawgi from Rajshi Productions, film distributor Shyam Sunder Jalani, former IPS officer and writer Hariram Meena, lyricist Hariram Acharya, writer Nand Bharadwaj and writer Ikram Rajasthani.
Filmmaker Rakesh Gogana, NRI film producer AV Shankardass and JIFF adviser and committee members KC Malu, Ravindra Singh Thakkar and Ajay Kala will also be present.
"This year we have focused on writer and directors, rather than stars. So five renowned writers like Anjum Rajabali, Sriram Raghwan and Akshat Verma, Vikramaditya Motwane and Kamlesh Pandey will participate along with the others," informed JIFF spokesperson Prasoon Sinha.
Germany will be a guest country, and will have four films screened at the festival.
In the picture: Andrew Vial, Hanu Roj, K L Jain, Prasoon Sinha and D P Agarwal at the JIFF