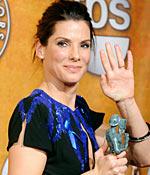 In what seems to be a repeat of the Golden Globes, the 16th Screen Actors Guild Awards held in Los Angeles last weekend saw the return of Jeff Bridges, Sandra Bullock, Mo'Nique and Christoph Waltz to the winners podium.
They joined Kevin Bacon, Alec Baldwin, Drew Barrymore, Michael C Hall and Julianna Margulies, who reprised their Globes wins in the television categories, reports The New York Times.
Unlike the Globes, however, James Cameron's Avatar failed to bag the Best Drama award. 
The Guild's highest honour, the Life Achievement Award, was presented to American actress and television host Betty White.
The award for Best Actress in a Comedy series went to Tina Fey for NBC's 30 Rock, beating out Toni Collette, who won the Golden Globe as well as the Emmy for her performance in United States of Tara.
The casts of Glee and Mad Men won Ensemble awards for Television while the cast of Inglourious Basterds won in the film category.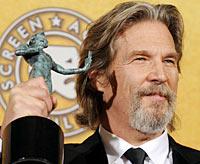 Here's the full list of the SAG winners:
Outstanding Performance by a Male Actor in a Supporting Role: Christoph Waltz, Inglourious Basterds
Outstanding Performance by a Male Actor in a Leading Role: Jeff Bridges, Crazy Heart
Outstanding Performance by a Female Actor in a Leading Role: Sandra Bullock, The Blind Side
Outstanding Performance by a Female Actor in a Supporting Role: Mo'Nique, Precious: Based on the Novel 'Push' by Sapphire
Outstanding Performance by a Male Actor in a Television Movie or Miniseries: Kevin Bacon, Taking Chance
Outstanding Performance by a Female Actor in a Television Movie or Miniseries: Drew Barrymore, Grey Gardens
Outstanding Performance by a Male Actor in a Drama Series: Michael C Hall, Dexter
Outstanding Performance by a Female Actor in a Drama Series: Julianna Margulies, The Good Wife
Outstanding Performance by a Male Actor in a Comedy Series: Alec Baldwin, 30 Rock
Outstanding Performance by a Female Actor in a Comedy Series: Tina Fey, 30 Rock
Outstanding Performance by an Ensemble in a Drama Series: Mad Men
Outstanding Performance by an Ensemble in a Comedy Series: Glee