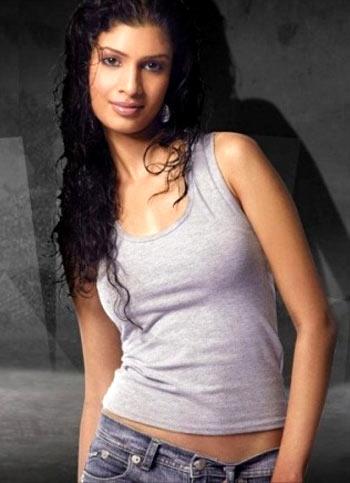 Does this pretty girl look familiar to you?

With more than 40 advertisements to her credit, chances are you must have seen Tena Desae at one point or the other.

The model-turned-actor, who is making her Bollywood debut next month with Yeh Faasley, has already bagged an important role opposite Dev Patel [ Images ] in the Hollywood film The Best Exotic Marigold Hotel. The film also stars Judi Dench and Bill Nighy [ Images ]. Tena will be seen romancing the Dev in the movie.

"It was an experience of a lifetime," Tena says of her experience shooting for the film. "Everyone dreams of doing a Hollywood film but I didn't expect it to happen so early in my career."

Talking about her co-star, who along with with Freida Pinto [ Images ] became famous after starring in the Academy award winning film Slumdog Millionaire [ Images ], Tena says, "He is so down-to-earth. We got along very well. He has no airs. I had a lot of fun shooting with him."

The young girl from Bangalore also spoke about Yeh Faasley, which she says is an unusual story about a father-daughter relationship. Tena plays Anupam Kher's [ Images ] daughter.
Newcomer Yogesh Mittal is the director as well as the co-producer (with Kher).
"At first I was a little scared because I didn't know how to react," Tena says of her experience of sharing screen space with the veteran actor. "He came to me and we chatted for almost 15 minutes. He broke the ice and made me feel very comfortable."
She added, "Though the ice had already been broken with him, it had not been melted. I remember my first scene with him. I was very nervous and couldn't say my lines properly. He told me to relax and concentrate. He treated me like his daughter. It was a pleasure to work with such a genius."
Tena will also be seen in another movie called
Sharafat Gayi Tel Lene
which stars Zayed Khan [
Images
] and Ranvijay [
Images
] Singh.
So how did films happen? "I wanted to act from the time I was in the 9th standard. I grew up watching Madhuri Dixit [
Images
], Rani Mukerji [
Images
] and Kajol [
Images
] who have given so many brilliant performances."
So who would be her perfect co-star? "It has to be Aamir Khan [
Images
] and Shah Rukh Khan [
Images
]," she smiles.