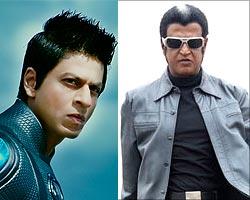 Now that Rajnikanth has agreed to make a guest appearance in Shah Rukh Khan's Ra.One, the question being asked among the two superstars' wide circle of family friends and colleagues is this: Will Rajnikanth eventually shoot as per plan in Hyderabad on October 4?

According to reliable sources, Rajnikanth's immediate family is not kicked by the idea of the mega-star lending his presence to a film that takes its inspiration of his earlier film, Endhiran/Robot.

Says a source, "Robot director Shankar had gone to Shah Rukh Khan with the script. Shah Rukh turned down the film and decided to produce and act in his own super-hero film. Shankar then made Robot with Rajnikanth. Rajni's family is not comfortable with the idea of Rajni lending his presence to a film that takes off from where Robot leaves off."

Indeed, when I contacted Rajnikanth's daughter Aishwarya to ask about his proposed cameo in Ra.One, she denied it outright, saying, "Not true."
However, Oscar-winning sound recordist Resul Pookutty, who has worked on both Robot and Ra.One, has another story to tell.
"There's a situation in Ra.One where Rajni sir's presence is required," he says. "(Art designer) Sabu Cyril and I convinced Shah Rukh to talk to Rajni sir to convince him to do the role as using a duplicate in place of Rajni sir wouldn't look nice. So Shah Rukh called and Rajni sir agreed."
Now it remains to be seen if the Tamil superstar finally shoots on October 4 or not.