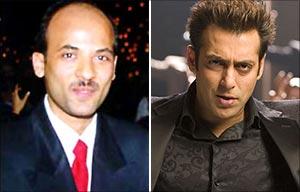 It's been more than a decade since Salman Khan worked with Sooraj Barjatya, the filmmaker who gave him two career-defining films, 
Maine Pyar Kiya
and
Hum Aapke Hain Koun
.
Apparently, it's no coincidence that Barjatya hasn't made a film with his once best friend Salman Khan after
Hum Saath Saath Hain
in 1999.
The infamous black-buck incident that occurred during the film's shooting in Jodhpur put a strain on the duo's friendship.
A close friend of the Barjatya family said, 'Salman and Sooraj were very close. When on the sets, Salman instinctively knew what Sooraj wanted him to do. But Barjatya could never come to terms with Salman's bratty personality. He's a very composed person and couldn't cope with Salman's rebellious streak."
The Barjatyas, who have been vegetarians for over three generations now, don't even allow non-vegetarian food on their film sets.
"The filmmaker was really upset when Abhishek Bachchan, tired of eating the vegetarian fare served on the sets of
Main Prem Ki Diwani Hoon
in Europe, cooked chicken and served it to the entire
unit. He didn't speak to the actor for days," the source reveals.
Barjatya is against killing animals and so when the black buck incident came to light, it proved to be a major blow to his relationship with Salman. 
'Sooraj
ji
didn't say a word to Salman but have maintained his distance from him ever since. He held no grudges against Saif Ali Khan, Tabu, Sonali Bendre and Neelam, who apparently joined Salman during the poaching incident as they were not his friends. Sooraj
ji
felt betrayed by Salman,' the source adds.
While Barjatya reportedly tried to put the incident behind him, the new developments in the case have made matters worse.
He had recently touched base with the actor and the duo was apparently in talks for a script when the latest court summons were issued to Salman. The Barjatya family is rather disappointed by the fact that Salman didn't bother to apologise to them during all these years since the incident.
With the black buck incident in the limelight again, one wonders if the film that Barjatya was planning with Salman will ever get off the ground.
Photograph: Rediff Archives