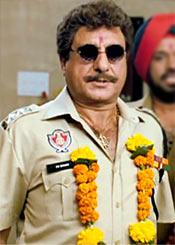 Raj Babbar lost his father just days before his son Arya's December 9 wedding in Jodhpur, creating an awkward situation for the families of both sides.
However, Raj
ji
admits that it was his son's to be in-laws, who offered to postpone the wedding in the light of the bereavement in the Babbar family.
Says the actor-politician, "It was very nice of them to offer to postpone the event when so much of  preparation had already gone into the event. All the guests had been invited, a lot of money spent. I didn't have the heart to suggest a postponement. Instead, I suggested a quiet wedding. But they are very cultured and understanding people. They suggested we push the wedding date ahead because of the death."
Raj Babbar agrees the postponement was a big blow to both families. "Arya was very attached to his grandfather. His
dadaji
was diabetic, so his legs had gotten weak. He had promised to attend Arya's wedding saying, '
Main physio-therapy kara raha hoon. Tere shaadi main daud jaaonga.
' (
I am doing physio-therapy. I will run on your wedding
)"
Raj Babbar adds: "He was 84. His going away is a big loss. I suddenly feel older."
Ironically, Raj will be seen in what he calls the funniest film of his career on Friday, December 7.
"Life goes on and so does the laughter. In Khiladi 786, I have a very funny role. I've never done broad comedy since Tajurba(with Smita Patil) in 1981. So I am doing comedy after three decades."
Raj says it wasn't difficult because every actor was in the mood of gaiety. "I am happy with the film and my role. I enjoyed doing it. When I was dubbing, I was laughing more than speaking my lines. We were all swept into the comic design. I have always been a subdued actor. Adapting myself to this new style was an interesting challenge. When Himesh Reshammiya narrated my role over the phone, I readily agreed to do it. Himesh is a good friend. I can never say no to him."