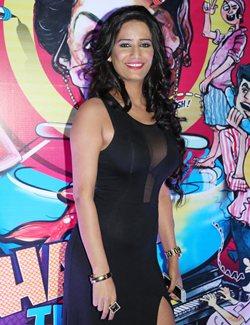 Poonam Pandey has a bone to pick with the Mumbai police.
The Nasha actress was reportedly accosted by cops recently near her Mira Road home, in Northern Mumbai suburb, for allegedly "misbehaving" with a man in her car.
The man in the car with her, turns out, was her brother Aditya Pandey.
A rattled Poonam says, "This is worse than the Taliban. It was 10.30 in the night. I was with my brother and I wasn't drinking or misbehaving in the car at all when I was questioned by cops."
According to Poonam, the cops turned aggressive when they learnt who she was.

"The minute I said I was Poonam Pandey, their attitude changed. They wanted to know what I was doing in the car with a man.
"The cops felt they could have their eight minutes of fame. Suddenly it's all over television channels. All kinds of strange insinuations are being made about my conduct, my dress and the company I keep.

"If I can be pulled up for going on a drive with my brother I shudder to think what must happen to other girls who go out with their boyfriends," she says.
Meanwhile, the starlet's family is in a state of shock after the incident.

"My parents are blaming me for putting my brother through this. But is it really my fault?"

Image: Poonam Pandey. Photograph: Courtesy Hardly Anonymous Communications