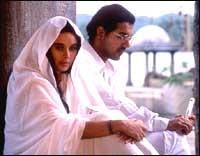 John Abraham, a relatively unknown name in North America till the other day, would soon join the likes of Shah Rukh Khan and Saif Ali Khan in the million dollar box office club, thanks to two of his films.
He shares the limelight with Akshay Kumar in Garam Masala heading for $1-million target in USA. The film achieved that target in the United Kingdom in about three weeks.
In Canada, Deepa Mehta's Water -- in which Abraham plays a reformist Gandhian lawyer -- is heading for $1 million in the next few days. The critically acclaimed film, which was shot in Sri Lanka with no publicity following the agitation by conservative Hindus in India against it over four years ago, opened in 11 theatres in a handful of Canadian cities on November 4.
The Hindi language film, which deals with widow remarriage in India in the 1930s, grossed about $150,000  in three days. Next weekend, it was shown in 41 theatres and by November 14, it grossed $450,000, according to distributor Mongrel Media, By November 21, the film's gross stood at about $700,000.
Fox Searchlight will release the film, which opened the Toronto International Film Festival in September, either in late
February or early March in a handful of cities in the US and slowly expand it across the country.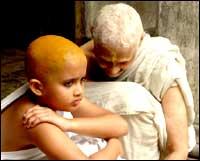 Set in 1938 Colonial India against Mahatma Gandhi's rise as a social reformer, the story of Water begins when eight-year-old Chuyia (newcomer Sarla) is widowed and sent to a home where the widows must live in penitence. But Chuyia's rebellious and feisty presence affects the lives of the other residents, including a young widow (Lisa Ray), who falls for Narayana, a Gandhian.

When Abraham was asked at TIFF if he ever felt he was risking his career acting in the film, particularly due to the agitation which shut down its production in India, he asserted that having Mehta's name on his curriculum vitae was far more important than any other consideration.

Abraham received quite a bit of attention during his weeklong stay in Toronto during the TIFF.

Mongrel Media, which had distributed Mehta's Bollywood/Hollywood in Canada over two years ago, treated her new, subtitled film as if it were a mainstream Canadian film. Its recent art-house hits include Capote which may pick up a handful of Oscar nominations.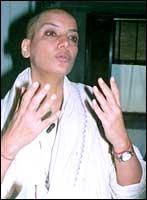 Apart from placing advertisements in Indian publications, radio and television, Mongrel advertised the film with television spots on mainstream channels. It issued a glossy insert in the nationally sold The Globe and Mail a week after the film was released, and just before it was going to add more theaters.

"With Water, we felt that we had a very special film," Tom Alexander, Mongrel's director of theatrical releasing, said. "We wanted to give it the best slots in the country and let people know it is a very special and important film. We began our ads many days before the film's release. The idea was to create a slow build through every channel we could."

"We feel the film has done very well and exceeded our expectations," Alexander told trade publications as Water was about to enter its fourth week. "Our strategy is to keep the film alive and going as long as we can."