Watchmen, inspired by a graphic novel about vigilante superheroes and carrying the taglines -- Justice is coming to all of us. No matter what we do -- dominated the world box office,  soundly overthrowing last week's champion Slumdog Millionaire.
The comic book movie, which has seen various efforts to bring it to the screen over the last two decades, grossed over the weekend a decent but unspectacular $83 million, nearly 55 percent of it in North America. Slumdog, which was number one film for just one week in its dream run worldwide, made about $18 million. It lost about 35 percent of its box-office clout after having soared to the top amidst post Oscar celebrations.
Though weekend gross for Watchmen was not as spectacular as many had hoped, the R-rated film directed by Zack Snyder (whose 300 released in 2007 was a huge hit worldwide) has begun its run with promising numbers. How much money the $120 million movie would make in the final reckoning could be guessed only after two or three weeks. A lot depends on the next weekend's dip.
But trade observers believe that given the film's complex background and events involving the Cold War between America and the Soviet Union, and lack of consistent excitement and entertainment value, it may not be a tentpole hit.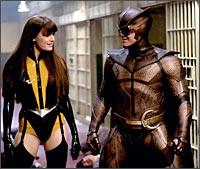 'If you're not already invested in these characters because of the original graphic novel by Alan Moore and Dave Gibbons, nothing this movie does is likely to change that predicament,' warned the influential trade publication, The Hollywood Reporter. 'That's bad news for Warner Bros. and Paramount, which hold domestic and international rights, respectively. Opening weekends everywhere will reflect the huge anticipation of this much-touted, news-making movie. After that, the box office slide could be drastic'
The absence of big stars is also a detriment.
The movie's first murdered character is called the Comedian (Jeffrey Dean Morgan), a former member of a exiled team of superheroes called the Masks. Fellow ex-Mask Rorschach (Jackie Earle Haley) wants to avenge his former colleague's death. He believes ex-crime-fighters like him and the Comedian are being targeted even as the Doomsday Clock -- which keeps a tab the American. and Soviet Union competition over nuclear arms -- nears midnight.
Many major publications had mixed feelings about the film. Some said the movie is a parable and can be seen as a commentary on how America treats its heroes and glorifies false heroes. Others thought it is an overblown film.
'The most pleasant surprise in the movie adaptation of Watchmen is the pop-art fusion set off by placing superheroes in a 'real' world,' wrote Daily News.
Minneapolis Star Tribune complained: Watchmen bites off more than a single film can chew, and chokes on its gluttony.
For those who are not familiar with its source, the movie could be frustrating, wrote Dallas Morning News. 'Watchmen is often visually stunning but also confusing and scattered,' it added.
Detroit News echoed the sentiment. 'Mammoth, mangled, violent, confusing, dazzling, dark, excessive and occasionally brilliant...'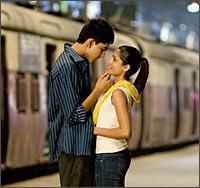 In his blog in The Guardian, the British daily, Ben child mused:
'One suspects mainstream critics may demur, but for now at least Watchmen is being hyped as a film that could itself alter the course of history. Even more than last year's The Dark Knight, it might just be the superhero film that demands to be taken seriously.
 
Meanwhile, Slumdog continued its extraordinary run, its total reaching at least $235 million. In the United Kingdom where it was overthrown by Watchmen, it has reached an eye-popping $40 million. It is yet to open in a dozen countries including Japan, China and South Korea, Brazil, Sweden and Germany. By conservative expectations, it could reach $300 million worldwide before it hits the video stores. In North America, where it has grossed $125 million, it could beat Juno's  $143.5 million to become the top-grossing film ever for Fox Searchlight. It is currently showing in 2900 theatres which is no small record. It is the widest release for a Searchlight movie. Watchmen is playing in over 3600 theatres.
In North America, the movie fell by about 41 percent from its previous week -- its biggest decline in its 17 week long run --- but it was strong enough to be at number four on the chart. With its $125 million gross in America and Canada, it is just about $2 million short of overtaking the North American gross for fellow Oscar nominee, The Curious Case of Benjamin Button. But remember that the latter, starring Brad Pitt, cost $150 million, ten times the budget of Slumdog.