Actor Vivek Oberoi, who was admitted to the Calcutta Medical College after fracturing his leg while shooting for a Mani Ratnam film on Wednesday, has been brought to Mumbai.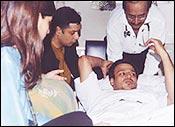 Sources at the institute said the star, accompanied by his father Suresh Oberoi, left for Mumbai by a Thursday morning flight.
He will be operated on at the Hinduja Hospital.
"The case warrants good management and since the family felt more comfortable bringing Vivek here, we will do the needful," Dr Sanjay Agarwal, who will be attending on the actor, said.
"The case papers from the Kolkata hospital will be studied and we will also carry out certain investigations before starting the treatment," Dr Agarwal said.
Mani Ratnam, who fainted after witnessing the accident and had to be admitted to the B M Birla Heart Research Institute, was also fine.
Clinical Director Dr Anil Mishra, attending on Ratnam, said all his tests were normal.
"His fever is gone and his blood pressure does not drop when he stands up anymore. He has also been re-hydrated," he said.
A final medical assessment of the filmmaker would be carried out on Thursday evening after which the doctors would decide when to discharge him.
"Though we would advise him rest for a day or two, we don't know whether he can actually afford it since his entire crew is here for the shooting," Mishra said.