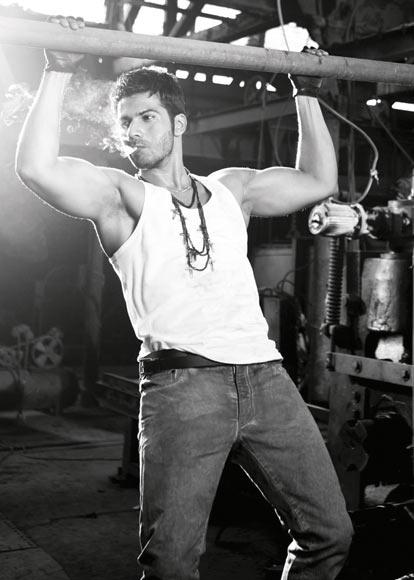 Varun Dhawan appears on the latest issue of the GQ magazine, showing off his lean body.

The actor was so relaxed at the GQ shoot, that he would break into a dance routine at every chance he got.

"It's nice to be able to be myself," says the chipper 25-year-old in between takes. "Between acting and playing to people's perceptions of who they think I am, this is a relief."

The Bollywood newcomer, who launched his career last year with romcom Student Of The Year (SOTY), says he can rarely go out now without somebody recognising him. "I feel like a bit of an animal in a sea of humans."

Already popular with the ladies, and having received favourable reviews for his nascent acting chops, surely the scripts are stacked ceiling-high on his bedside table?

He laughs. "It would be silly to flood the audience with my movies. There are so many other ways to make yourself seen and heard."

But with two directors in the family – older brother Rohit directed 2011's Desi Boyz, and father David is, not without reason, known as the King of Comedy -- it's unlikely this young actor is going to ever be too far removed from film.

"I'd love to act in a movie like American Psycho. But it'd never get past the censors," he says. "On the other hand, in SOTY, we smoked joints and slammed shots. So filmmakers are getting bolder. But I guess you have to pick your battles."

Dhawan's just signed his second film -- a comedy, he says, which also allows him to show off his newly minted martial arts skills.
And about those abs, he says, "Man, they're hard work; don't let anyone tell you otherwise."

Read more about Varun Dhawan in the GQ's May issue.