Madhuri Dixit Nene's dancing feet and winsome smile weren't enough to mesmerise the audiences in America and Canada, and her comeback vehicle Aaja Nachle had a wintry reception. Its $257,000 weekend gross in 62 theatres was about one third  of the money raked by her last film, the Sanjay Leela Bhansali directed Devdas.
The expensive tearjerker, Devdas, which also had the benefit of a glittering star cast led by Shah Rukh Khan and Aishwarya Rai, ended its run with over $3.5 million in North America and a similar gross in the United Kingdom. The new Madhuri film would be lucky to gross a combined $1 million in both the territories. The year 2002 also saw the release of  another Madhuri film, Hum Tumhare Hain Sanam  which was a much delayed project. And yet that film starring Shah Rukh Khan and Salman Khan was not a huge flop.
Agreed her new film is not as lavish as Devdas but even then its reception was distinctly disappointing.
The weak opening for Aaja Nachle continued the near-disastrous streak during the past 12 months  for Yash Raj. The only redemption the company had was with the outstanding success  of ChakDe! India. But the film, which after a so-so opening slowly ballooned into a huge hit in India, wasn't a smash on both sides of the Atlantic it earned about $2 million, a disappointing gross for a Shah Rukh film, given his enormous clout overseas.
Aaja Nachle also proved an inauspicious debut for director Anil Mehta whose distinguished career as a cinematographer includes such hits as Lagaan, Veer-Zara and Kabhi Alvida Naa Kehna
Many viewers in New York and New Jersey cinemas said that Madhuri, who is 41, still looked fetching. She danced with grace and did give out a decent performance, they said. But she needed a stronger come-back vehicle, and a couple of  powerful stars. "You don't expect her to carry a film on her feet and make it a solid hit," said a young man who had seen the colossal hit Om Shanti Om four times but was impatient to sit through one screening of Aaja Nachle.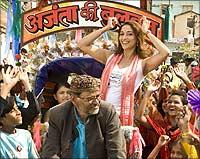 "The film should be titled Aaja Bhag Le," he said, adding he should have waited to see it on DVD
OSO, which is still drawing audiences, has reached $3.6 million mark in North America while Saawariya ended its run with just about $875,000, an excellent gross for a film with new stars. But a puny record for a film that reportedly cost  $8 million.
In another box-office news Wes Anderson's The Darjeeling Limited is ending its run in North America with a decent but  tad disappointing $11 million. Many had expected the film to outgross Mira Nair's The Namesake with $14.5 million gross. But many viewers felt that Darjeeling Limited did not have enough depth and its comedic moments were not soaring. Both films were distributed by Fox Searchlight.
With OSO waning in the next few weeks, the box-office is expected to ignite only in the third week of the month when the Akshay Kumar starring Welcome, and the Aamir Khan directed Taare Zameen Par open world wide.