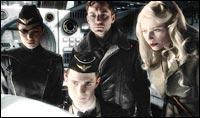 The high profile Sky Captain And The World Of Tomorrow flew to the top of the box office charts in North America but did not soar. Its three-day take of $16.2 million was disappointing considering its high profile cast and surrounding hype.
The film, which cost about $75 million to make, might yet earn a profit if it turns out to be a big hit abroad. But the chances of it launching a franchise look remote now.

Much has been written about the film's innovative technology that had its cast -- Jude Law, Gwyneth Paltrow and Angelina Jolie -- perform against digitally animated robots on a backdrop of 1930s New York. But the experiment left many viewers cold. They complained the film was not compelling.


| | |
| --- | --- |
| | rediff.com's Arthur J Pais is at Toronto. Don't miss his dispatches! |
| | |
Mira Nair's anaemic Vanity Fair sank from the top 10 after staying there for two weeks. Its gross has reached $13.7 million and it is doubtful if the film, distributed by Focus, can make more than $16 million. Focus could make more money from the better made The Motorcycle Diaries, which opens in a few key cities including New York on September 24.

The film -- inspired by Ernesto (Che) Guevara's travels in a handful of South American countries, along with a friend -- was one of the best reviewed films at the recent Toronto International Film Festival.

Opening at second spot is Mr 3000 starring Bernie Mac, as an egotistical baseball star trying to make a comeback. It offered the comic actor his first leading film role. Mac has played many supporting characters in films like Ocean's 11. The low-budget comedy grabbed about $9.2 million, which wasn't bad at all. It could show a neat profit when DVD and video sales are factored in.

Wimbledon, starring Kirsten Dunst as a rising tennis player who falls for a fading tennis star played by British actor Paul Bettany, was at fourth spot with $7.8 million. The $30 million movie received mostly mixed reviews.

"You could make the same romantic comedy about rodeos -- and probably have less manure," declared Boston Globe's Wesley Morris.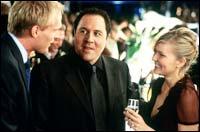 New York Times' Stephen Holden who called the film "...a likable, formulaic sports movie..." was certainly in the minority.

Its fate now lies in UK and Europe.

Last week's sci-fi fantasy Resident Evil: Apocalypse, starring Milla Jovovich as a sexy heroine, came down by over 61 percent from its previous stand. It was at third spot with a mediocre $9 million. Still, the film bound for a good profit has grabbed $37 million in 10 days.

The steadiest films of the season are two comedies, including Without A Paddle, which heads for a robust $60 million gross. The other is Napoleon Dynamite, which cost less than half a million dollars, and lost just about five percent of the audiences from the previous week. With about $33 million grabbed in the past four months, the film is headed for a bountiful $50 million gross.

The beguiling kidnap drama Collateral, starring Tom Cruise and Jamie Foxx, is steadily taxing towards the $100 million benchmark. It would be the first $100 million film for director Michael Mann whose previous films include Ali, The Insider, The Last Of The Mohicans and Heat.
The box office this week
:
Rank

Film

Weekend gross

Total
gross

Number
of weeks

1

Sky Captain

$16.2 million

$16.2m

New

2

Mr 3000

$9.2 million

$9.2m

3

3

Resident Evil: Apocalypse

$9million (less 61% from previous week)

$37m

2

4

Wimbledon

$7.8 million

$7.8m

New

5

Cellular

$6.87 million (less 31% from previous week)

$19.8m

2

6

Without A Paddle

$3.7 million (less 18% from previous week)

$50m

5

7

Hero

$33 million (less 46% from previous week)

$46m

4

8

Napolean Dynamite

$2.4 million (less 5% from previous week)

$33m

15

9

Collateral

$2.3 million (less 15% from previous week)

$96m

7 days

10

Princess Diaries 2

$2 million (less 32% from previous week)

$91.9m

6