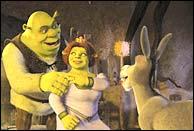 The green ogre devoured an estimated $110 million in three days. Shrek 2 took its five-day haul to an enviable $125 million across North America.
The opening was a record for an animated film. The achievement was further enhanced by the unprecedented fact that the movie grossed, partly because of the rapidly tumbling performances of such films as Troy and Van Helsing, about $30 million more than the rest of the 99 films on the chart. The big question now is if it will have enough staying power to humble Mel Gibson's The Passion Of The Christ, which is winding up with a godly $370 million in North America, and about $270 million abroad.

The DreamWorks produced Shrek 2, made far more money than the industry had observed. It is likely to dominate the box office till Harry Potter And The Prisoner Of Azkaban opens on June 4 and takes away repeat audiences.

By then, Shrek 2 would have earned over $220 million comfortably. Given the speed with which it has eaten into the box-office records, there is no doubt it will soar past the $260 million that the first film took three years ago. Shrek was also the first film to win the newly instituted Oscar for Best Animated Film.

The DreamWorks film, which is being shown at a record number of theatres (exceeding 4,200 and possibly 6,500 screens), enjoyed an opening that has eluded the much-hyped recent films like Troy and Van Helsing.

The first Shrek grossed about $480 million worldwide (and a far bigger amount in video and DVD sales). Given the huge opening the new film has enjoyed, it is expected to earn far more than its predecessor across the globe.

Shrek 2 focuses on the problems the newly wed Shrek and his spouse Fiona, the beautiful princess who is also turned into an ogre by now, face in getting accepted. The fable, which uses the voices of Mike Meyers (Shrek) and Cameron Diaz (Fiona) is enriched by the comic antics of Eddie Murphy (Donkey). But its considerable appeal comes from Antonio Banderas who plays Puss-in-Boots, the ogre slayer who changes his mind and befriends Shrek. Older moviegoers will be delighted to hear Julie Andrews (queen) and John Cleese (king), who are horrified to discover their daughter has not only become an ogre but has married one too.

Troy, at $180 million cost nearly the double of Shrek 2, sank by about 49 per cent from its previous week. It has grossed a decent $85 million in ten days. It could become profitable only because it is doing excellent business worldwide. Van Helsing is losing blood quite fast and in its third weekend, it lost about 51 per cent box-office clout, taking its cumulative total to $100 million. 

Despite the hype of such films as Troy, several low-budget films such as Mean Girls are enjoying a solid run. Made for about $25 million, Mean Girls has already become profitable with its $64 million gross. Expect the film to be around for at least a month.

Entering the top 10 chart for the first time is the documentary, Super Size Me, which follows its director, Morgan Spurlock who, for a month, eats nothing but McDonald's food. The film, which opened in about 20 theatres three weeks ago, is showing in 150 this week and is expected to have several expansions in the next four weeks.

The critically acclaimed film which won the documentary director's prize at January's Sundance Film Festival, questioned McDonald's announcement that its products were not causing obesity. But soon after Spurlock opened, McDonald's said it was going to discontinue its super-size meals.

In Boston Globe, critic Ty Burr found it "outrageously amusing," while in Chicago Tribune, Mark Caro declared, "Here's a documentary that engages you at the gut level, often literally."

In New York Post, Megan Lehmann called the film "an amusing McGimmick."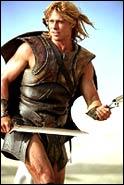 But Rolling Stone's Peter Travers devoured every bit of the film with far more enthusiasm than his colleagues. He called it "one of the blackest comedies to hit the screen since Dr Strangelove." Stanley Kubrick's Dr Strangelove, which is not a documentary, was released about four decades ago.

The next week will see a medium-sized emotional film with a comic touch, Raising Helen, trying to woo young women. It features Kate Hudson as a modeling agency assistant forced to look after her sister's three orphaned children. Co-produced by Ashok Amritraj, it was directed by Garry Marshall, director of Runaway Bride and Pretty Woman.

Expect Troy and Van Helsing to take a big hit when the newest summer behemoth, the Roland Emmerich-directed The Day After Tomorrow opens on May 28.
The box office this week:
Rank

Film

Weekend gross

Total
gross

Number
of weeks

1

Shrek 2

$104 million

$125m

New

2

Troy

$23.8 million (less 49% from the previous weekend)

$85m

2

3

Van Helsing

$10 million (less 51% from the previous weekend)

$100m

3

4

Mean Girls

$6.8 million (less 32% from the previous weekend)

$64.7m

4

5

Man on Fire

$3.5 million (less 31% from the previous weekend)

$69.3m

5

6

Breakin' All The Rules

$2.8 million (less 55% from the previous weekend)

$5m

2

7

13 Going On 30

$2.5 million (less 40% from the previous weekend)

$52m

5

8

New York Minute

$1.1 million (less 70% from the previous weekend)

$12m

3

9

Kill Bill Vol 2

$1million (less 40% from the previous weekend)

$62m

6

10

Supersize Me

$90,000

$2.9m

3
Click here for
More Box Office Reports