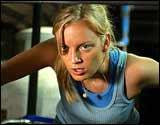 The zombies in Dawn Of The Dead rose from the dead to cannibalise The Passion Of The Christ, forcing the superhit movie to second place after a three-week reign at the top.

Many critics dubbed the new horror film, a remake of 1978 cult classic by George Romero, as dawn of the yawns, and complained it was yet another mindless horror flick. In Boston Globe, Wesley Morris mourned that 'few of the original movie's political and philosophical preoccupations (abortion, capitalism, patriotism, individualism) remain'. In Chicago Tribune, Michael Wilmington declared the film was 'mostly a bloody mess'. But Washington Post and Los Angeles Times had plenty to admire in the film. 'Dead and loving it,' declared The Post calling the film 'scary, smart, audacious and edgy.' In LA Times, Manohla Dargis wrote the film is 'a reminder of how good horror movies sweep away with equal parts pleasure and dread.'
| | |
| --- | --- |
| | More on rediff.com! |
| | |
But there were others who were impressed by its energy and comic touches.
Though Dawn had no actors with strong box-office clout, its story about a small group of men and women fighting the zombies appealed to millions, and the Universal Pictures movie grossed an impressive $27.3 million in three days.

Despite the onslaught of Dawn and losing nearly 40 per cent of its box-office clout, Mel Gibson's Passion was still potent, earning an awesome $295 million in less than a month. It could have an impressive resurrection in early April leading to Easter. Some box-office observers are convinced that the film will reach the $400 million benchmark in North America.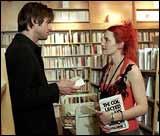 Among the three new releases, the serial killer drama Taking Lives, starring Angelina Jolie as a FBI profiler helping investigation in Montreal, took a few hostages. It grossed a ho-hum $11.4 million. While Eternal Sunshine Of The Spotless Mind, an unconventional comedy drama starring Jim Carrey, made $8.6 million over the weekend. Unlike most of his comedies, the Carrey film is a mature drama and was screened in only 1,300 theatres while the other new films were each shown in more than 2,500 theatres.

Eternal Sunshine tells the story of Joel (Carrey) who finds out that his former girlfriend (Kate Winslet) is trying to erase all memories of their relationship and tries to undergo the same procedure. But he slowly realises that he does not really want to forget her. Even as he is under the control of technicians who are erasing his memories, he devises means to store some precious ones.

Some reviewers like Boston Globe's Ty Burr thought the film was 'too self-absorbed to fully connect with an audience'. And New York Times's Elvis Mitchell wrote it is 'a movie you admire more than love'.

Many others were simply ecstatic.

In Chicago Tribune, Mark Caro wrote: '(Jim) Carrey, bless him, has curbed his look-at-me tendencies to turn in his most convincing dramatic performance.'

In the trade publication, Hollywood Reporter Kirk Honeycutt called the film 'a bold and venturesome trip down memory lane as only writer Charlie Kaufman could imagine it.'
And in New York Post, Lou Lumenick felt the movie was 'audacious, thought-provoking and ruefully funny.'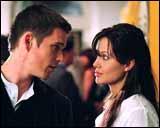 While Angelina Jolie got good marks for her gritty performance in Taking Lives, the movie itself was slammed by many critics. 'First-rate production values and Angelina Jolie cannot overcome threadbare material.,' complained Hollywood Reporter's Kirk Honeycutt. New York Post's Megan Lehmann, who thought the film is 'smarter than your average serial-killer movie,' was clearly in the minority.

With Taking Lives at the third spot on the box-office chart, the fourth place went to the hit cop comedy drama Starsky And Hutch. It was followed by the disappointing suspense yarn, Secret Window, which fell by a whopping 47 per cent from its opening week. But with a $33.1 million gross in ten days, the Johnny Depp movie is far from dead and could end up with a modest profit.

While Eternal Sunshine took the sixth place, the mild hit racing drama, Hidalgo, was not far behind at the seventh, followed by the disappointing kid movie, Agent Cody Banks 2.
Showing an excellent staying power, the Adam Sandler and Drew Barrymore romantic comedy First 50 Dates grossed $4.3 million at the ninth place, its total reaching $113 million. It was followed by yet another also-ran film, Confessions Of A Teenage Drama Queen.

The 11-Oscar winner The Return Of The King, which had zoomed back into the top 10 after the Oscars, seems to have finally got off the chart. But with nearly $373 million grossed in North America, and a weekend gross of about $1.2 million, it is going to be around for a few more weeks.

It is going to be a hectic week as four films open on Friday. There is a lot of excitement over the Coen brothers comedy The Ladykillers, starring Tom Hanks. Warner Bros are hoping for a hit run for Scooby-Doo 2: Monsters Unleashed while Miramax is wishing for more than art-house hit status for director Kevin Smith's Ben Affleck-Liv Tyler romance Jersey Girl. Fox Searchlight, meanwhile, expects decent though not chart-blowing numbers for its urban drama Never Die Alone.
The box office this week:
Rank

Film

Weekend gross

Total
gross

Number
of weeks

1

Dawn Of The Dead

$27.3 million

$27.3m

New

2

The Passion Of The Christ

$19.2 million (less 40% from the previous weekend) 

$295m

 4

3

Taking Lives

$11.4 million

$11.4m

New

4

Starsky And Hutch

$10.7million (less 34% from the previous weekend) 

$67.8m

3

5

Secret Window

$9.6million (less 47% from the previous weekend)   

$33m

2

6

Eternal Sunshine Of The Spotless Mind

$8.6 million

$86.m

New

7

Hidalgo

$8.4 million (plus 29% from the previous weekend)

$48.5m

3

8

Agent Cody Banks 2

$6 million (less 25% from the previous weekend)

$17.3m

2

9

First 50 Dates

$4.3 million (less 20% from the previous weekend)

$113.2m

6

10

Confessions Of A Teenage Drama Queen

$1.5 million (less 38% from the previous weekend)

$27.6m

5
Click here for
More Box Office Reports