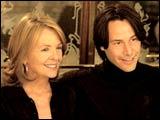 Jack Nicholson and Diane Keaton laughed louder at the box-office than Tom Cruise over the weekend across North America with Something's Gotta Give ending the one-week reign of The Last Samurai at the top.
A well-reviewed comedy about an ageing playboy who ends up in love with the mother of the young woman he is chasing, Something's Gotta Give did not open with spectacular numbers. Its $17 million three-day opening gross was considered decent, and unless it shows good legs in the coming weeks, it may not qualify to be called a hit.


The Tom Cruise film joins half a dozen big budget films in the $110-$140 million range that have turned disappointing. The list includes
Master And Commander
,
Dr Seuss' The Cat In The Hat
,
The Hulk
and
The Haunted Mansion
.
Samurai
took a 42 per cent plunge from the previous week. It would not have looked bleak had the film opened with a bang. The movie, on the whole, could still earn a decent profit if it does better business abroad. It opened across Japan on the same day of its American release, earning about $10 million in its first week there.
It was a promising opening, but its real strength will be known only after a couple of weeks when it expands its run
to other countries.

With $14 million gross, The Last Samurai was the second highest grosser of the week. 

Among the two new films to be featured on the top 10 list, Stuck On You, a sentimental comedy about two twins conjoined since their birth, opened to disappointing numbers. With $10 million, it was at third position, followed by Love Don't Cost A Thing. A low budget film aimed at teens, Love captured $6.2 million, eating heavily into the territory of last week's No 2 film, Honey, which is also aimed at the younger viewers. While Stuck On You played in over 3,000 theatres, Love was shown in just about 1844.

Revolving around an unpopular but super-intelligent teenage boy, Alvin Johnson (Nick Cannon) who hires a cheerleader (Christina Milian) to pose as his girlfriend so that he can improve his reputation in school, the romantic comedy Love should have attracted more viewers.

Even then, the film with a PG-13 rating, is a small budget production (about $15 million) that should be profitable in about three weeks.

Losing over 55 per cent of audiences from the previous week, the low budget teenage film Honey was pushed to the eighth position where its total gross reached $20 million in ten days.

The disappointing Eddie Murphy comedy The Haunted Mansion was fifth on the list. Eroding fast in popularity, the expensive film that grossed about $60 million in three weeks doesn't have a prayer of reaching the $100 million mark.

It was followed by the black comedy, Bad Santa, at sixth position that is behaving extremely well and looking to end its American run with over $60 million in box-office gifts. The movie added over 440 theatres on Friday to its 2,100 theatre count. As a result, its 11.5 per cent drop was the smallest, followed by Elf's 23 per cent.

The certified feel good comedy Elf is still very big. It grossed over $6.1 million over the weekend at the seventh position, with its total reaching $147 million. Made for less than $40 million, the movie has already become one of the most profitable films of the year.

Following Honey at the eighth was The Cat In The Hat which, having grossed an anaemic $90 million, is struggling to go past $100 million.

The surprise mystery shocker Gothika that has proved without any doubt that Oscar winner Halle Berry could open a film has amassed a solid $53.4 million in four weeks. The film will certainly make a decent profit having cost about $40 million.

Sinking fast, Master And Commander has been tossed off the top 10 list. At 11th position, it made a shallow $2.3 million, with a highly disappointing $76 million total gross. Unless a bountiful of Oscar nominations come to the film, it may exit with a highly disappointing $85 million.
Click here for More Box Office Reports
The box office this week:
Rank

Film

Weekend gross

Total
gross

Number
of weeks

1

Something's Gotta Give 

$17 million

$17m

New

2

The Last Samuai

$14 million (less 42% from the previous weekend)

$46.8m

2

3

Stuck On You

$10 million

$10m

New

4

Love Don't Cost a Thing

$6.5 million

$6.5m

New

5

The Haunted Mansion

$6.3 million (less 70% from the previous weekend)

$53.9m

3

6

Bad Santa

$6.2 million (less 11.5% from the previous weekend)

$35.9m

3

7

Elf

$23 million (less 23% from the previous weekend)

$147.7m

6

8

Honey

$5 million (less 60% from the previous weekend)

$20m

2

9

Cat in The Hat

$4.1 million (less 44% from the previous weekend)

$90.7m

4

10

Gothika

$2.7 million (less 48% from the previous weekend)

$53.4m

4