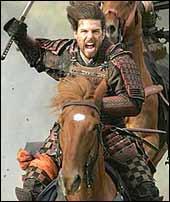 Tom Cruise rode to the top alright, but it wasn't exactly a sweet triumph.
His The Last Samurai showed less than stellar numbers at the box-office, while the low budget Honey with Jessica Alba in the title role became the real winner over the weekend. The unexpected snowstorm that blanketed most of the East Coast was partly responsible for the $24.4 million three-day take for Samurai.
Hollywood insiders believe the eagerly-awaited Samurai, which received mediocre reviews, could not have made more than $30 million under better conditions.

The Last Samurai, which cost over $120 million, was followed by the $14 million Honey that debuted at Number 2 with a sweet $14 million gross. Expect the film to be profitable within two weeks.

The weekend that follows Thanksgiving Day holidays is one of the weakest periods in any year for the movies. This year is no exception. Many films came down by about 55 per cent from their lofty grosses last week.
The lacklustre box-office will continue for many more days, to be lifted heftily by the Christmas-New Year week.

Time magazine gave The Last Samurai a glowing review, along with the likes of Kirk Honeycutt in Hollywood Reporter, who wrote it is 'An epic East-meets-West action-drama that stirs the imagination.'

But many critics complained that the film, which was conceived as homage to Akira Kurosawa's samurai classics, was too ponderous and was not a rousing entertainment. Cruise also served as one of the executive producers on the film.

New York Post's Lou Lumenick called it 'A pandering epic that's as phony as it is condescending.' And in The New York Times, Elvis Mitchell wrote: 'The uneven Samurai is a can-do movie that's far more effective at communicating emotion in bigger scenes than in more intimate ones.'

Warner Bros however tried to put a big spin on the movie, asserting Samurai will have strong legs.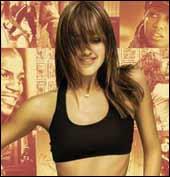 The low-budget Honey, about a tough sexy dancer from the inner city who becomes a successful music video choreographer but loses her career when her mentor wants to sleep with her, was slammed by many critics for being too predictable. Some faulted the director for too much midriff gazing.
But audiences seemed to love everything about the film. Pre-release tracking had put the film in the $9-$11 million category. Now that it has opened with far bigger numbers, it could become one of the most profitable films of the year. 

Critics who ran it down will wince at its popularity. 'A brainless booty shake,' complained Atlanta Journal-Constitution's Bob Townsend. In Boston Globe, Wesley Morris thought, "Simple and sweet Honey lacks substance.'
New York Post's Jonathan Foreman argued, 'Honey lacks even a trace of imagination.'

Surprisingly, New York Times' A O Scott found some redeeming features: 'Honey brings out the wholesome, affirmative side of the hip-hop aesthetic without being overly preachy.'
Among the holdovers, medium range films such as Elf, Bad Santa, Gothika and Love Actually, which cost between $30 million and $40 million, are doing very well.

Elf, a gentle and inventive comedy, is certainly going to be far more profitable than Dr Seuss' The Cat In The Hat, which cost about $120 million. Both were aimed at the younger viewers. But many viewers found the latter, which was the fifth highest grossing film of the week, to be a noisy, tasteless misadventure.

Elf at number 4 followed the disappointing and expensive Eddie Murphy film The Haunted Mansion.

At the sixth, Bad Santa is proving there are enough audiences across America for a dark comedy that takes a new look at the hallowed tradition. Disney executives were reportedly happy at the film which was produced by its division Miramax. But following strong reviews from some of the top critics in the country and a decent box-office reception, they could be smiling now. 

Gothika is still sending shivers up millions of movie fans, and is headed for a $75-$80 million final gross, making Oscar winner Halle Berry a star in her own right. It was the seventh highest grosser over the weekend, followed by the disappointing western, The Missing.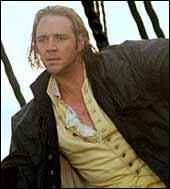 Master And Commander, the admirable sea drama, is facing rough weather, having tumbled to ninth position with a paltry $3.8 million gross. Unless it gets a bounty of strong Oscar nominations, it may sink without even grossing $100 million. 

Thumbing its nose at critics who slammed it for being too sentimental and upbeat, Love Actually, the tenth movie on the chart has grossed about $50 million in five weeks. Expect it to get a big boost during the Christmas week.
A far bigger hit in England and several European countries, it is headed for a $150 million gross overseas, more than two and half times its expected gross in North America.
The hit movie continues the lucky streak for Hugh Grant but with this one he proves once again (after such films as About A Boy), that he does not need a Sandra Bullock (Two Weeks Notice) or Julia Roberts (Notting Hill) to turn a film into a hit.
The box office this week:
Rank

Film

Weekend gross

Total
gross

Number
of weeks

1

The Last Samurai 

$24.4 million

$24.4 million

New

2

Honey

$14 million

$14m

New

3

The Haunted Mansion

$9.5 million (less 60% from the previous weekend)

$46m

2

4

Elf

$8.1 million (less 62% from the previous weekend)

$138m

5

5

Dr Seuss' Cat In The Hat

$7.3 million (less 70% from the previous weekend)

$85.5m

3

6

Bad Santa

$7 million (less 43% from the previous weekend)

$27m

2

7

Gothika

$5.3 million (less 58% from the previous weekend)

$49.6m

3

8

The Missing

$4.4million (less 59% from the previous weekend)

$22m

2

9

Master And Commander: The Far Side Of The World

$3.8 million (less 60% from the previous weekend)

$72.6m

4

10

Love Actually

$3.7 million (less 56% from the previous weekend)

$49m

5
Click here for More Box-Office Reports