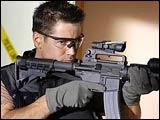 Craving more violence and high-tech thrills, over five million people enthusiastically embraced  the gangster movie S.W.A.T. which raced to the top of US box office charts with $37 million in three days.
The gross exceeded practically every forecast including the $22 million gross predicted by BoxOfficeGuru.com. 

Proving there was plenty of room for laughter at the top, the body switch comedy Freaky Friday took second place. A remake of a Disney hit, the movie's solid opening significantly boosted the studio's profile, adding to box office fire ignited by two of its super hits, Finding Nemo and Pirates Of The Caribbean, and another very profitable venture, Spy Kids 3. The studio had four of its movies out of the top 10 this weekend.


| | |
| --- | --- |
| | More on Rediff Movies! |
| | |
A warmhearted film about a mother, Jamie Lee Curtis, and her self-centered daughter Lindsay Lohan, coming to understand each other better when their bodies are accidentally switched, Freaky Friday is anything but a freak success. 

Made at $20 million - a quarter of S.W.A.T. budget - it was aimed at family audiences, including young women. The movie is definitely on its way to earn $100 million. 

While Lohan, who also scored big in another Disney remake Parent Trap five years ago, is an ascending newcomer in Hollywood, Jamie Lee Curtis, a fine comedic actress (A Fish Called Wanda) who has not done many films in the last five years, is the big surprise in Freaky Friday. Not many American actresses in their 40s get to work on a plum part as the one in Freaky Friday and see the film succeed.

Even though last week's American Wedding found the welcome thinning out fast - it lost about 55 per cent of the previous weekend's box office - it is firmly on its way to have a profitable honeymoon. Viewers clearly haven't found the film as exciting as the other two films in the American Pie series. 

Still, the film, which cost about $50 million, is expected to gross $200 million worldwide.

There was no saving grace for Gigli, one of the most ridiculed films of all times. The Ben Affleck and Jennifer Lopez starrer opened to a scary $3.5 million weekend, and was blown off by over 82 per cent in the second. The $56 million film is unlikely to gross even $10 million. Producer Columbia Pictures surely must have been more than relieved with the better than expected opening for its S.W.A.T.  

Many reviewers, including Elvis Mitchell in The New York Times ridiculed the film, some calling it SWEAT. In Atlanta Journal-Constitution, Bob Townsend wrote: 'a silly movie jumble of violent images, macho banter and dim platitudes.'

But the film about a group of elite LA cops dealing with a flashy, brazen French gangster who manages to offer on television $100 million for his release, pleased the audiences considerably.

The strong opening for S.W.A.T. reaffirms the continuing popularity of Samuel L Jackson, but it is also a big plus for the younger Colin Farrell. Though he too has been overexposed like Jackson in half-a-dozen films in the last two years, Farrell, apparently, has plenty of charisma.

He was fascinating to watch as the villain in Daredevil, a weak film toplining Ben Affleck, which grossed $170 million worldwide. And Phone Booth, a smaller budget film, is on the way to gross $100 million globally.    

Occupying the fourth slot on the chart, Pirates Of The Caribbean is still fighting enthusiastically. Having earned $232 million, it does have a chance of knocking at the $300 million benchmark.

In the fifth place was the strong-limbed Seabiscuit, a sentimental favorite which has emerged the first serious contender in the last eight months for Oscar nominations. 


| | |
| --- | --- |
| | Have you checked out: |
| | |
But Oscar watchers know well that, often, early favourites are swept off if they are not able to maintain a decent box office presence through Fall. Last year, Road To Perdition started off on high ground in the summer and went on to gross about $101 million.

But the film, which had received ecstatic reviews, was swamped by a raft of latecomers which were better remembered at the Oscar nomination time.

Still amusing kids and adults in significant numbers, Spy Kids 3 was sixth highest grosser of the week, with $87 million, while Bad Boys II is at the seventh place with $123 million.

Having opened to weak numbers two weeks ago, Lara Croft Tomb Raider: Cradle of Life has now grossed about $5.5 million to add up to a $53 million total worldwide. Unless the Angelina Jolie movie makes big waves abroad, it won't recoup its $80 million investment.

The miraculous hit of the year Finding Nemo is still potent at ninth position. The movie is expected to end its first run with at least $335 million. Expect the film to earn more than that when it goes out on video and DVD.

While Arnold Schwarzenegger is pumping political muscles in California in the gubernatorial race, his Terminator 3: Rise Of The Machines is getting ready to drop out of the top 10. The film grossed about $1.5 million, and is on its way to a healthy, but not terribly exciting, $150 million total.

But, as in the case of most Schwarzenegger films, it is the overseas audiences that will bring in the real gold. Abroad, where the film is in its second or third week in major territories, its gross has reached $170 million, with plenty more to come in the next month.

Click here for More Box Office Reports