Can't get enough of television? Grab your weekly gossip from the industry right here.
Mona Singh was at her best during last week's performance at the celebrity dance show, Jhalak Dikhlajaa. While there is no denying the fact that she had put in a lot of hard work along with her choreographer, the grapevine suggests a different reason for her stellar performance. Inspiration, it seems, is the key word.
Okay, we'll won't keep you in suspense much longer. Not only did her parents cheer her from the audience, her beau Karan Oberoi was also present to help her put in her best.
And you thought Mona and Karan split after their brief romance in Jassi Jaisi Koi Nahin!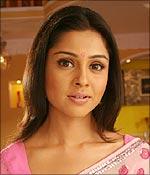 For physicists, black means the absence of any colour in an object. But, for Manasi Salvi (the lawyer in Sati - Satya Ki Shakti), the colour has become her friend, consort, support, alter ego and most defining signature!
Black and Manasi have almost become synonymous, thanks to her lawyer's black uniform. But now, it seems she wants to live life in full colour. At least on screen. The grapevine tells us that Salvi will soon be sporting specially designed colourful saris and jewellery in the Sahara serial.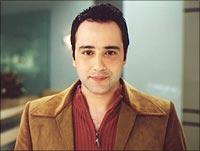 Most of us can't think of Mihir Mishra (whose character Dr Rahul became very popular in Sanjeevani) in anything but a doctor's role. And why not? The debonair actor fitted the role in the superhit serial to a T.
Now, it seems the image is difficult for Mishra to shed. Starting today, he will be playing Dr Vikram Kapoor – the son of a family friend of Sumit Wadhwa (Hussain Kuwajerwala) -- in the afternoon show, Kumkum.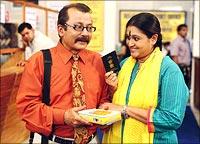 Supriya Pathak is back on the small screen. And this time, it's in a role completely opposite of what she is her real life.
The actress will play a brash, reprimanding, loud, domineering woman called Mahabali in her husband Pankaj Kapoor's show, Naya Office Office. A special episode will see the couple work together in a serial after a gap of eight years.
Welcome back, Supriya!