Reality show TV Hero Honda Roadies has produced six winners and attracted hordes of wannabes through the years.
A rip-off of another reality show Survivor, MTV Roadies' format is simple. The contestants are provided with Hero Honda Karizma bikes to travel on a pre-decided route. After each episode, there is a vote-out where a contestant is eliminated by his fellow Roadies. The last one standing wins.
As the seventh season of Roadies flags off on November 8, Nithya Ramani, a Roadie aspirant herself who cleared the first level, decided to get in touch with one of the past winners to find out what one can expect from the show.
Like the winner of Roadies' first season -- Rannvijay Singha who currently hosts and directs Roadies -- Ayushman Khurana from Chandigarh, the winner of the second season, turned anchor for the channel.
Ayushman was in his second year of college when he was selected for Roadies season two. Once he won the show, he returned to college and completed his degree in Mass Communications Journalism. Soon after, he went to MICA (Mudra Institute of Communications, Ahmedabad) to do a course in radio.
Groggy after being interrupted from his sleep, Ayushman says that he hasn't slept in days, which was why he decided to take a vacation to his hometown. Though obviously sleepy, the ex-Roadie was gracious enough to answer questions about his Roadie experience.
Since so many people try to get into Roadies every year, what exactly is the criteria that the show looks for in a contestant? "Roadies is not a talent hunt show nor is it a creative show," Ayushman replies. "They don't care if you are intelligent or smart or good looking. All they look for is the will to succeed. That is what they mean by the 'Roadies spirit'. All you need to do is be yourself and have the determination to be a Roadie. I think what helped me win the show was my patience. There were 15 other people on the show and to be able to be with them and not lose your cool is very important. I remained patient till the end and I guess that's what paid off."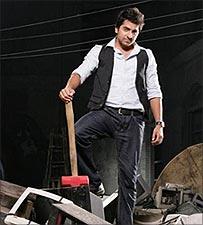 After he got selected, Ayushman got ready for the ride which started from Kolkata. "We flagged off from Kolkata and were supposed to head towards Pakistan. But due to some problem we didn't go to Pakistan but finished our journey at the Waga border," he says.
As Roadies is a task-oriented show, Ayushman was given tasks to perform. He says the tasks were comparatively easier compared to the ones being shown in the most recent episodes. "I would have loved to do the body piercing task that was a part of Roadies 5.0 or the kushti (wrestling) task of season six. In our season the best task I remember was in Santiniketan in Kolkata. We were all standing on lush green grass in the rain but had to walk on fire. That was the most challenging task," he recalls.
So what awaits winners?
Ayushman says it differs from person to person. While some become anchors on MTV, others go back to the life they had before the show. "I went on with life and so did other Roadies on my show. One of them got married, while another continued her studies and went abroad. So life after Roadies is pretty much the same.
"Not everybody can become a veejay or an anchor," he continues "Since I did a course in radio and always had the passion to become an actor, I think I was able to pull off being an anchor. I had a theatre background too so that helped."
Being on Roadies meant being away from home for almost three months or so. Previous shows have shown some of the contestants wanting to return home because of lack of proper food and bedding. Doesn't this make most contestants homesick?
Ayushman says no. "None of it affected me. I am quite a loner and so I was fine. We were given Rs 70 (per head) to take care of our food intake. So we would eat at dhabas and roadside places. They took care of our shelter, though."
Ayushman says that the recent seasons are better in that way. The Roadies are provided with food and shelter.
The ex-Roadie also says that the show has evolved a lot since its initiation. "Off late, the show goes abroad after a certain episode. The tasks are different and more challenging. The show has become a brand by itself and has gained in popularity. Roadies get almost everything on a platter. Even the auditions are different," he adds.
Hear that, future Roadies?