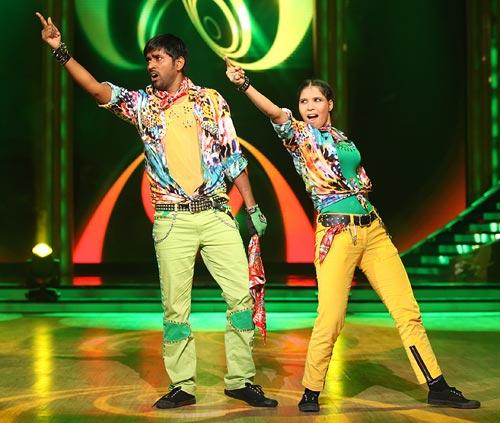 S
ushil Kumar,
winner of
Kaun Banega Crorepati,
is the latest contestant to get evicted from dance reality show
Jhalak Dikhhla Jaa.


He used to hide whenever he was asked to shake a leg at family weddings and functions, but the 27-year-old is delighted he won't be doing that any more.
"All my fear of dancing vanished after I came here and I have become more confident. I have also realised that dancing is good exercise. I became more fit and healthy."
He says he didn't expect to be invited to participate in a show of this kind. "I took it as a challenge. I had never danced, but I've got to learn various dance forms."
He says it was a lifetime experience. "I hadn't ever thought that I would meet well-known celebrities like Madhuri Dixit, Karan Johar and Remo D'Souza (the judges). I consider myself lucky that I was able to perform in front of them and interact with them."
He says he always wondered what the glitz and glamour of this kind of world was like. "It's really very different, but I have enjoyed every moment and the celebrities I have met are so humble."
During rehearsals he didn't even know the name of the dance forms, he confesses, "but still I worked hard and I am happy with my stint. During the rehearsals, I used to write the steps down on paper and learn them."
Dance was a big challenge for Sushil, who has two left feet. But he managed to match steps with his choreographer Alisha.
His best
performance on the show?
"I think
Lagaan
was the best performance. It was my second performance and I danced without any inhibitions."
He was fondly called
antarmukhi
by Madhuri Dixit. "I would quickly finish my performance and wait for Madhuri
ji
's comments. That was the most exciting part of the show for me," said Sushil, sounding like a diehard fan.
"I have taken the contact numbers of all the celebs and will remain in touch with them," says the man from a small town who was so unexpectedly catapulted to a stardom of his own not so long ago.
So which celebrity contestant was he close to on the show?
"Bharati is such a sport. She doesn't mind if you pull her leg but will give tit for tat in a humorous way," he replies.
Would he do other reality shows in future?
"I don't know what the future holds for me, but I am definitely not dancing any more," he smiles.
Sushil created history by winning a jackpot of Rs 5 crore in the fifth season of KBC. He says, "Everyone was surprised when I won KBC and then comes this dance reality show. People have started respecting me and taking me more seriously now."
And what did he do with all that money he won?
"I never thought of buying a car and having a luxurious life. I have not bought anything for myself. Ever since I got the money, my first priority was to have my own house. We are getting a three-storey house constructed and it should be ready in a few months. Apart from that, we have saved some money in fixed deposit schemes and made other investments," says the level-headed young man.