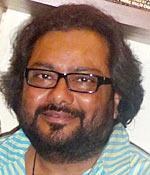 Last weekend, Ismail Darbar was voted out of Bigg Boss, as the rest of the housemates accused him of not helping out in the household work due to his injured hand.
The music composer talks to Rajul Hegde about his time in the house.
How is your injured hand?
It's fine now. I think the doctor will remove the cast in four or five days.
Why do you think you were evicted from the house?
Everyone was aware what a strong personality I was and the housemates felt threatened. People aren't bad by birth. Locked in a house for weeks without any access to the outside world makes even the best resort to kameenagiri. But there is a greed that makes people resort to that. I didn't want to do it anymore. I was destined to live in the house for a month and four days, so I was evicted. I am a lucky person because I got out of the show without any grudges and bad publicity.
Do you think you are less popular than the other housemates?
I am the strongest contender in the house. Who recognises them? Everyone in India knows who I am. I am better than the rest of housemates in terms of work, experience and intelligence. They are kids in front of me.
Were you shocked when your name was announced for eviction?
No. In fact, a day before the eviction, I told Claudia Ciesla that I would be leaving the house the next day but she didn't believe me. Nobody in the house expected me to get evicted. I don't think I have less fans; I am out only because I wanted to come out. 
My wife had instructed me to wear a particular costume on the day of eviction. Before the name was announced, I wore it because I knew I would be eliminated. My wife is happy that I am out of the house. She thinks I'm evicted because of her prayers.
What did you learn from the show?
I have learnt a lot. It's a lifetime experience. You learn to value even the smallest things like tomatoes, chillies and lemons. I didn't see a single lemon or drink any juice during my stay in the house. We learn to compromise on so many things.
I got to know who are close to me and who are not. I had not met any of the housemates before Bigg Boss, except Raju Srivastava. The tears that rolled down from the eyes of the housemates are the greatest achievement for me.
What prompted you to take part in Bigg Boss?
I was offered both the seasons of Bigg Boss earlier but I declined them. When I was offered the first season, I asked them to send me a CD of Celebrity Big Brother to know the concept of the show. After watching the CD, I asked them how could they think that I would do this kind of show?
I refused to be a part of the third season too but they convinced me -- that it would help me in my career and viewers would also get to see the real me.
I'm not scared of showing the real me. That's why I agreed to be on this show. I think I have succeeded in showing my real self on this show.
Do you think this show will help your career?
Do you think I need publicity? I have done a couple of music reality shows on television and people have appreciated my music in films. I am already a star. I don't need any publicity. But the rest of the housemates need it (smiles).
Who do you think were playing games in the house?
All of them. Shamita Shetty, Aditi Gowitrikar and Poonam Dhillon are the most cunning people in the house. The men talk openly about what they feel, unlike these women.
I didn't like Tanaaz because she left her one and a half year old son to be on this show. The child requires his mother at this age. Otherwise, I don't have anything against anyone because nobody dared to misbehave with me.
Who do you think will win Bigg Boss? 
Vindoo or Pravesh Rana. Vindoo, because I lived with him for a month and love him. Though I have spent only a day with Pravesh, I feel he will win Bigg Boss because he has all the qualities to be the winner.
What is the first thing you did after coming out of the house?
I'm having good food like chicken, which I didn't get in Bigg Boss. I have lost so much weight that I cannot wear trousers without a belt (smiles).