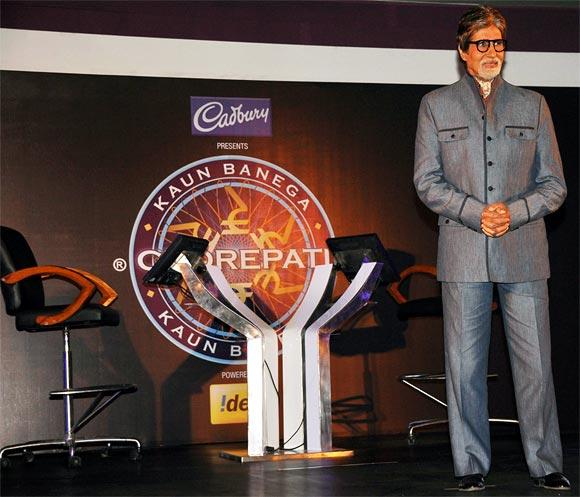 The sixth edition of
Kaun Banega Crorepati
will air on Sony Television on September 7.
Gyaan hi aapko aapka haq dilaata hai
(only knowledge gets you your right) is the central theme of the sixth season of the very popular quiz show.
The official theme of the third season was
'Kuch sawaal aapki zindagi badal sakte hain'
(some questions can change your life), while the fourth season declared '
Koi sawaal chota nahi hota'
(no question is too small), which became immensely popular. It was followed by '
Koi insaan chota nahi hota'
(no person is too small) in the fifth season of the show.
Amitabh Bachchan, the charismatic host of the show, who played a major role in making
KBC
one of the top-ranking quiz shows, said, "These taglines are very important for people who live in small towns and who don't get the opportunity to follow their dreams."
Bachchan supports girls who break out of oppressive societal structures and prove their mettle. "When girls fight society, family, and circumstances and come and sit in the hot seat, I feel proud because they come there only because of their
gyaan
(knowledge)."
He
continues, "Studies indicate that most girls from small towns are not allowed to continue their education after the seventh or eighth standard.
"Girls are not given an education in small towns as their families feel they will get married and the money spent on their education will go waste. I feel it is nothing less than an abuse. Women constitute 50 per cent of the country's power and should get their rights."
His stints as the show's host have been very enjoyable, he says. "I have got to meet so many different people from all corners of the country. We have already crossed 500 episodes. I always try to make the contestants as comfortable as I would do if they came to my house."
Bachchan admitted that he is often moved by the back stories and backgrounds of the contestants. "When a contestant is sitting in front of me and I hear his or her story, the struggle that they go through, I have to control my emotions. It is heart wrenching."
The promos of
KBC
look interesting. Does he give any inputs?
"We do discuss with the research, marketing and creative teams. We talk about the several suggestions and then decide what to do. I do give inputs, but then we have a team that has the best suggestions and ideas," he replies.
Photograph by Pradeep Bandekar